Baltimore Road Rage Drivers Can Cause Injuries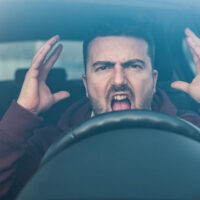 Anyone who spends a lot of time driving on Baltimore or DC roads has likely been angered or frustrated once or twice. After all, it can be annoying if you are stuck behind a slow driver and are late for an appointment. And it can be distressing when a speeding driver cuts you off out of the blue. But, it is still essential to stay calm, to keep both yourself and others safe. The facts point to the extreme risks of driving aggressively.
When you learn to spot the indicators of road rage driving, you can notice the signs in your own driving and adjust your habits accordingly. Also, you can recognize the signs in other drivers and give those cars and trucks plenty of room. And if you have already been injured in a car accident involving an aggressive driver, know there are paths to damage recovery. An experienced Baltimore car accident lawyer can help you secure the compensation you deserve after being struck by a road rage driver.
Examples of Risky Road Rage Behaviors
Noticing the signs of aggressive driving can help you to steer clear of dangerous drivers. Some of the indicators include the following:
Tailgating or driving too close to the cars surrounding them.
Lane changes that are fast, erratic, and unpredictable.
Not following legal rules, such as signs and signals.
Racing or trying to race with other cars.
Speeding and reckless driving.
Flashing bright lights and headlights
Shouting profanities or using obscene gestures.
To reduce the chances of exhibiting these behaviors yourself, take steps to reduce the stress you experience when driving. For example, if you have an appointment to get to, give yourself plenty of time so you will not be in a hurry. Of course sometimes things happen, such as an unexpected hazard causing an hour long traffic jam. Breathe deep and avoid anger.
And when you find yourself in a situation where another on the road looks like they are experiencing road rage, resist any urge to engage. Dangers can escalate when two or more drivers begin reacting to the anger of one another. Instead, simply avoid eye contact and move out of the circumstance. If things are escalating, pull over to a safe area, preferably an area where others are present, and call law enforcement.
Talk to an Attorney Today
Having a doctor or healthcare professional assess your injuries is one of the first things you should do following a car accident. Then, if you have a lot of medical expenses and have experienced wage loss, connect with a Baltimore car accident lawyer. A lawyer has the knowledge you need to receive a full and fair settlement after an aggressive driver causes harm.
Is a road rage incident responsible for your Maryland car accident injuries? If you have high medical expenses, connect with a skilled attorney who can navigate complex claims. Reach out to the legal team at Iamele & Iamele, LLP. With years of personal injury claim knowledge, our attorneys can help. Contact us today for a free initial consultation.
https://www.iamelelawfirmbaltimore.com/ways-to-avoid-getting-pulled-over/