Whiplash Can Result In Real Suffering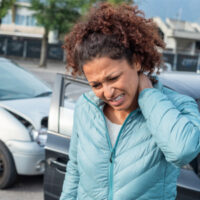 Likely you have seen depictions of fake whiplash injuries in movies and television shows. It is common for characters in fictional stories to try to illegally obtain financial rewards through lies about their injuries. So, there may be a character who is seen dancing and having a great time who puts on a neck brace and feigns a whiplash injury to get money from a person or company. This popular culture portrayal is not always true in real life. There are plenty of people who experience real suffering due to whiplash.
An experienced Baltimore car accident lawyer can help you prove your neck and back injuries are connected to a car crash. You deserve a full and fair settlement when a person or entity was negligent, causing you harm. Emotional suffering and hospital expenses can be part of a damage recovery settlement.
Car Crashes Are Not the Only Causes of Whiplash
Whiplash injuries to the neck, back, and shoulders are possible whenever the body is moved unnaturally and abruptly back and forth. Rear end car crashes are a common reason for whiplash injuries, but the injuries are possible in a variety of events, including the following:
Bicycle crashes
Athletic and sport injuries
Slip, trip, or fall accidents
Boating accidents
Roller coaster injuries
Physical abuse
The symptoms of whiplash can manifest in a variety of ways, there can be pain, stiffness, muscle strain and spasms, headaches, insomnia, mood shifts, memory issues, and more. While the injury may be diagnosed as a soft tissue injury, sprains, or hyperextension, but the collection of whiplash symptoms are sometimes referred to as whiplash-associated disorders.
Strengthen Your Claim with Proof
Gathering strong evidence is always an important part of securing a maximum settlement amount, and whiplash injury claims are no exception. Then, if an insurance adjuster is suspicious, their doubts can be immediately addressed with documentation.
When you discuss your situation with a Baltimore car accident lawyer, you will learn what steps need to be taken. Your legal representative could request an expert analysis of what your future earnings would have been had the event not occurred, for example. Or, they could obtain witness accounts that prove you were injured as a result of the collision and the injuries are not a result of a separate event.
Taking notes throughout your experience can be helpful as well. For instance, if you are having trouble sleeping because of your injuries, write down the day and time along with symptoms you are experiencing. Also note any days you were unable to work due to whiplash-associated disorders. Keep the log up to date. This log could be helpful if your doctor or lawyer needs more information.
Has a whiplash injury in connection with an auto accident caused you pain and suffering? If you have high medical expenses, connect with a skilled attorney who can navigate complex claims. Reach out to the legal team at Iamele & Iamele, LLP. With years of personal injury claim knowledge, our attorneys can help. Contact us today for a free initial consultation.
https://www.iamelelawfirmbaltimore.com/severe-injuries-from-side-impact-accidents/