Severe Injuries from Side-Impact Accidents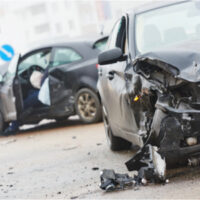 When people are involved in side-impact collisions, it means the side of their car or truck is hit by another vehicle. Typically, the front or rear end of the other vehicle. Side-impact accidents are also referred to as T-bone collisions or broadside crashes and are an extremely dangerous type of collision. Fatalities and severe injuries are possible when side-impact crashes happen, vehicles can be crushed. Rollovers are also possible.
Vehicular safety features are typically not enough to protect occupants from extreme side-impact force. There are more protections in place for front or rear impact. After a side-impact crash, you need a Baltimore car accident lawyer working to fight for the maximum settlement amount possible.
Injuries from Side-Impact Crashes
T-bone collisions can be devastating, physically and emotionally, for the occupants of the car or truck that was struck. Extensive trauma and bodily harm can result, including any or all of the following.
Fractures or broken bones
Facial scarring and injuries
Lacerations, burns, and cuts
Neck and back injuries
Internal organ damage
Brain and head injuries, including traumatic brain injuries
When a person is severely injured, they often are suffering from both bodily harm and emotional pain and suffering. There can be a permanent reduction to their quality of life.
Medical expenses can be astronomically high for severe injuries, including bills for hospital says and ongoing therapies. There can also be income loss, travel expenses, insurance copays, out-of-pocket costs, and more.
What You Should Do After a Broadside Collision
Because they can be extremely emotional and painful events, it is common to not be able to follow all of the guidelines of what a person should do after an accident in the aftermath of a T-bone collision. While the below can be helpful when filing a personal injury claim, there are paths to recovery for circumstance when the below were not completed.
Call 911 or the authorities, clearly telling the story but not apologizing.
Gather the names and contact information of witnesses.
Photos or videos of the scene should be captured when possible.
Have a medical professional assess your injuries, at a hospital or at your doctor's office.
Talk to a lawyer before connecting with an insurance adjuster.
Consulting with a Baltimore car accident lawyer as soon as you are able is advised. When you talk to an insurance adjuster without legal counsel, you could end up saying something that could hurt your claim. They may try to shift negligence, for example. A seasoned attorney knows the law and understands what is an amount is a fair compensation amount. Do not settle for a financial award that is far too low for your circumstances.
Were you involved in a broadside collision in Baltimore or the DC area? If you have high medical expenses, connect with a skilled attorney who can navigate complex claims. Have an experienced attorney work for you. Reach out to the legal team at Iamele & Iamele, LLP. With years of personal injury claim knowledge, our attorneys can help. Contact us today for a free initial consultation.
https://www.iamelelawfirmbaltimore.com/baltimore-rains-can-create-road-risks/