When Will My Personal Injury Case Go to Court?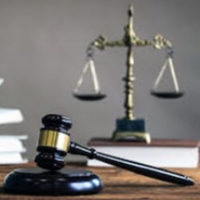 If you are moving forward with a personal injury case, you are likely wondering how long it will be before the case moves to trial. Of course, the timeline of any personal injury case depends on a multitude of factors. It is natural to have anxiety about going to court and to have a desire to move past the stresses of a personal injury case. A Baltimore personal injury attorney can help. Experienced lawyers can walk you through what to expect and give you an idea of when the issue could be resolved.
What Is the Litigation Process?
Litigating a case is a phrase used to talk about a personal injury case as a whole, this includes filing a complaint, discovery, trial presentations, and more. In Maryland, the litigation process will either happen within the District Court or the Circuit Court depending on the situation. In some instances, federal court is involved as well.
Smaller claims will typically fall to the District Court, cases with an upper limit of $30,000.
Larger claims, with amounts that are higher than $30,000, will land in Circuit Court.
Often, litigating a case does not end with going to court at all. There are times when it is in everyone's best interest to settle before going to trial. While building a strong argument that can stand up in court is always part of the process, the truth is there is no guarantee what a judge or a jury would do. For this reason, if both parties agree to a settlement amount, it is in their best interests to agree to that amount and move forward.
Should I Accept a Pre-Trial Settlement?
A pretrial settlement is when an amount is agreed upon before trial, and amount that addresses the damages and injuries stated in the claim. The amount is often landed on through a negotiation process, such as mediation. It allows everyone to put the case behind them while saving themselves the stress and time of a trial.
Benefits of a pretrial settlement:
Reduces expenses. Going to court can be expensive, this can be true for both parties.
Less stress. If a trial involves witnesses and court appearances, court can be very stressful for individuals.
Privacy concerns. Trials are public record, settlements are private matters.
Compensation is unpredictable. What will be awarded by the jury is not certain and there is no opportunity for negotiations.
Appeals can be long. When a person wants to appeal, the process can be further drawn out.
When the settlement amount is not too large, the at-fault party may agree to pay the compensation amount in one single payment. If the settlement amount is very large, periodic payments can be established. They may be payments made every month or every year, for example.
Do you have questions about the litigation process? Or, are you wondering how long it will take to resolve your personal injury claim? Reach out to the legal team at Iamele & Iamele, LLP. Our experienced attorneys can help. Contact us today for a free initial consultation.
https://www.iamelelawfirmbaltimore.com/what-is-a-baltimore-personal-injury-claim/