What to Do After a Motorcycle Crash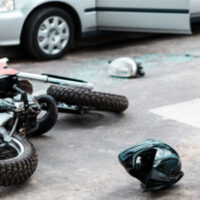 Motorcycles are popular, but they also come with their own risks. Accidents involving motorcycles can involve severe injuries and fatalities due to motorcycle riders being even more exposed to dangers than other vehicles.
If you were involved in a motorcycle accident, contact a Baltimore car accident attorney. Some motorcycle accidents occur because of reckless driving. Others occur because of hazards on the road. The personal injury lawyers at Iamele & Iamele, LLP can help you to determine liability. From there, the professional legal team may be able to secure compensation for you and your family.
Road Hazards for Motorcycles
All vehicles are vulnerable to accidents when there are hazards on the road and motorcycles are no exception. There are many reasons for road risks, including debris and pavement that is wet from rain or snow. If you are riding a motorcycle and crash due to road risks, it is difficult to find liability with another party. Local governments are not liable, even when roads are not in optimal shape. If you feel there is a reason someone else should be liable, discuss your situation with a Baltimore car accident attorney.
It is also hazardous when motorcycles are traveling at a speed that is unsafe. This would shift at least a portion of the liability onto the motorcycle rider. This is also true if a person riding a motorcycle is under the influence.
When There Are Cars and Trucks Involved
Accidents involving motorcycles and cars can happen for a variety of reasons. One of them is when a vehicle is turning and does not see a motorcycle in its path. Then, the car strikes the motorcycle. This often happens when a motorcycle is moving in one of the following ways:
Attempting to pass the car.
Passing through an intersection in a direct line.
The motorcycle jockeying for position with the car.
All of these reasons are not unique to motorcycles, but they are common ways for a motorcycle to be hit because it can be difficult for cars to see motorcycles as they are smaller than other vehicles on the road.
Abrupt lane changes or bumper to bumper traffic that results in rear-end collisions can also result in a motorcycle being hit. There are also times when parked cars create hazards. On narrow roadways, it may be difficult for motorcycles to see a person in a parked car opening their door. An open door can result in the motorcycle crashing into the door or crashing as it swerves away from it.
After a Baltimore motorcycle accident, the first step is to take care of your personal health. See a medical professional. Then, you need to speak with a Baltimore personal injury lawyer.
Have you been injured in a crash? You need an attorney on your side. Contact the legal team at Iamele & Iamele, LLP to understand your options following a vehicle crash. Our attorneys successfully secure compensation for accident victims in the Baltimore-Washington Metropolitan. We have extensive knowledge and experience in accident cases, including those involving motorcycles. Contact us today for a free initial consultation.
https://www.iamelelawfirmbaltimore.com/causes-of-bicycle-accidents/