Causes of Bicycle Accidents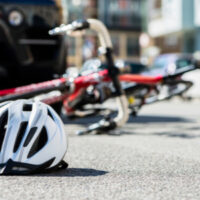 Deciding to use your bicycle as a mode of transportation is a great way to save money (no gas needed) and stay in shape in the process. That said, riding a bike does have risks. Particularly if you are riding in an area that is densely populated or full of vehicle traffic.
If you ride your bike around Baltimore, take steps to stay safe. If you do get injured, speak with a Baltimore personal injury lawyer about what to do next.
Stay Visible and Pay Attention
Remember to stay visible when riding your bike. Too often, bicyclists do not think about lights or reflective clothing when biking during the day. Day or night, you need to be seen. Wearing light colored clothing, including reflective vests, may help. Also, invest in lights for the front and back of your bike. Putting a light on your helmet can help, too.
Also, distracted driving is not an issue solely for car drivers, it happens to bike riders as well. When you are on your bike, pay attention to the task at hand. If you find yourself admiring the buildings and trees lining the street, remind yourself to focus back on the road and the traffic around you. When you are not paying attention, there is a higher likelihood you will be hit by another vehicle or crash into a parked car door when it opens suddenly. Car doors opening abruptly cause many bike injuries.
Take It Slow and Follow the Rules of the Road
The convenience and freedom of riding a bike can lull riders into a false sense of security. This can lead to fast speeds and ignoring the rules of the road.
Maintain a safe speed on your bike. One that allows you to stop quickly if necessary, in case a light swiftly changes from green to red or another bicycle or car makes an unexpected move. Plus, you need to be at a consistent speed to obey all the rules of the road.
According to Maryland law, bicycles are vehicles. They must follow the rules of the road, including the following:
Stop at stop signs
Stop at red lights
Ride with traffic
Use hand signals when turning or stopping
Yield to pedestrians
Ride on sidewalks only when local rules allow
When an accident occurs, the other party may be liable. Discuss your situation with a Baltimore personal injury lawyer. Instances when the other party could be held liable include when a driver does not stop fully at a stop sign or when a car driver moves their vehicle into a bike lane and hits a cyclist. Too often, drivers in cars and trucks are unaware of bicycles on the road. Inattentive driving can cause accidents and injuries.
After a bike accident, you need to speak with an experienced personal injury attorney. Contact the legal team at Iamele & Iamele, LLP to understand your options. Our attorneys successfully secure compensation for accident victims in the Baltimore-Washington Metropolitan. Contact us today for a free initial consultation.
https://www.iamelelawfirmbaltimore.com/rear-car-accident-injuries/