What Is an Independent Medical Evaluation?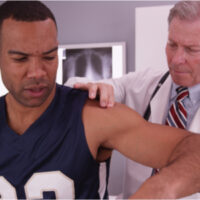 If an employee in Baltimore, Maryland, or the surrounding area is pursuing a workers' compensation claim, it is helpful to have a knowledgeable attorney to walk them through the process. For instance, an insurance company may request an independent medical evaluation (IME) to assess the extent of a person's injuries.
Insurance companies moving forward and arranging an IME is not uncommon. Protect your rights and talk to a Baltimore workers' compensation lawyer.
Understanding the Function of an IME
An IME is a type of medical evaluation. When a person sees a doctor or medical professional on their own, they are typically seeking advice, care, or a treatment regimen. When an IME is performed, it is done because an employer and their insurance company is seeking information about the medical condition stated in a workers' compensation claim.
The following are things to expect from an IME:
An assessment of the injuries that are claimed.
Determining if the doctor believes the injuries are related to the work accident.
Analyzing the treatment and if it is truly needed.
Often a doctor who conducts an IME works with the insurance company on a regular basis. So, while their analysis may be presented by the insurance company as a second opinion of a person's health and treatment, an IME can also be used to suggest medical treatment was not needed or a lower compensation amount is fair.
There are times when an IME is required, even when an injured employee does not want to be assessed. In many cases, the Maryland Workers' Compensation Act will require attendance. An attorney can advise you of the best steps for your situation.
Preparation for an IME and Exam Conduct
First off, be sure you are not late for the IME. Plan to be there early to be safe and bring any medical devices that are part of your treatment plan along. When you arrive, be polite and clear. There may be a questionnaire to fill out. It is not necessary to provide your entire medical history.
A Baltimore workers' compensation lawyer can give you guidance about what questions on a questionnaire are relevant and which legally need to be answered before your appointment. Request a copy of the questionnaire once it has been filled out, for documentation purposes.
Throughout the process, be truthful. You do not want to give the insurance company any chance to claim you are not credible. Be clear and understand your answers should match the reports involved in your workers' compensation claim.
Avoid providing any health information outside of your work related injury. For example, do not allow questions that suggest the pain from a work accident is actually pain from a prior injury. If you have limitations because of your injury, such as an inability to stand for long periods of time which would be required if you returned to work, clearly share those limitations.
Do you have questions about an upcoming independent medical evaluation? Contact the legal team at Iamele & Iamele, LLP to understand your rights. Contact us today for a free initial consultation.
https://www.iamelelawfirmbaltimore.com/what-is-a-baltimore-personal-injury-claim/