Unique Features to Intersection Car Crashes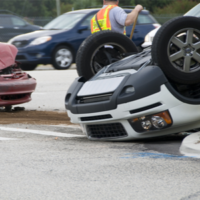 It is common for car collisions to happen at intersections, an intersection is where two or more streets or roads cross. Impact can happen in a variety of ways. Two cars may collide head on, in other situations cars sideswipe one another. Either way, it is possible that vehicle damages and substantial injuries follow an intersection collision.
Personal injury attorneys work with intersection car cases regularly. After all, it is estimated over 40% of accidents happen within intersections. If you were injured in an accident at a Maryland junction, talk to a Baltimore car accident lawyer. When the other driver ran a red light or went through an intersection at an excessive speed, they could be the at-fault driver.
Intersection Crashes Often Occur in Cities
While drivers know they should stop completely at stop signs and watch their speeds when navigating intersections, distracted drivers and individuals in a hurry often ignore these rules. Busy intersections in urban areas are often risky zones for collisions, there are many of these within Baltimore and in the DC area.
Some driver behaviors that can result in intersection collisions:
One vehicle following another too close.
Failure to yield.
Ignoring traffic signs and signals.
Illegal U-turns
Erratic and unexpected changes in course.
Merging in a dangerous fashion
Turns that are not signaled or improper.
After a crash, the seriousness of the collision will need to be determined. If anyone is injured, they should seek medical attention right away. Then, connect with a lawyer to determine if compensation is possible and what your claim or case could be worth.
Gathering Evidence to Determine the Cause of a Collision
Once you are working with legal professionals they will work to determine the cause of the intersection collision. This will be done through a discovery process in which your attorney will review police reports, videos, photos, witness accounts, maintenance records of the vehicles involved, and more.
Even if you believe there is no evidence, there may be a path to determining fault. For example, if there is no documentation of the event from the parties involved, there may be a video of the crash recorded on a local business's security footage. A Baltimore car accident lawyer will do what is needed to uncover the details of an event.
A skilled attorney knows how to move toward a settlement for your intersection accident claim. After a collision with another reckless driver, you do not have to shoulder all of the financial and emotional burden. Protect your rights and connect with an attorney who has experience in personal injury law today.
Are you facing high expenses following a Baltimore intersection crash? If you have high medical expenses, connect with a skilled attorney who can navigate complex claims. Have an experienced attorney work for you. Compensation is possible when another person or party was negligent. Reach out to the legal team at Iamele & Iamele, LLP. With years of personal injury claim knowledge, our attorneys can help. Contact us today for a free initial consultation.
https://www.iamelelawfirmbaltimore.com/maryland-work-zone-accidents-and-accident-injuries/