Maryland Work Zone Accidents and Accident Injuries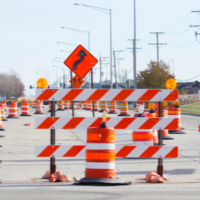 If you are regularly on Maryland and DC roads during the summer months, you know there can be an increase in construction projects. While road work is essential to maintain and build roads, construction zones can be dangerous areas for collisions. After all, work zones have workers walking around while congested traffic maneuvers detours. Combine this environment with heavy equipment and unexpected lane changes and accidents are possible. The National Highway Traffic Safety Administration (NHTSA) reports thousands of accidents in construction work zone accidents each year, many of these resulting in personal injuries.
Accident injuries can lead to long hospital stays, and this is true of collisions on roads that are being repaired or built. If you sustained an injury because another was negligent in a Maryland work zone, talk to a Baltimore car accident lawyer.
Driving too Fast and Other Dangers in Work Zones
Speeding and other risks cause accidents on Maryland roadways without construction and within construction work zones. When drivers are driving too fast in work zones, they face fines and are putting themselves, their passengers, and others on the road in danger. There is a reason speed limits are reduced in construction zones, it is important everyone is able to adjust their behavior safely, from changing lanes to being aware of workers on foot.
Another issue in work zones is when drivers are distracted. If they are not paying attention to their surroundings, they may not see a worker directing them away from a hazard, for example. Drivers who are paying more attention to their cell phones or eating food may miss an unexpected adjustment in the flow of traffic as well. It is common for work zones to have lane shifts.
There are risks drivers are not in control of as well, particularly dangers in the work zone. It is the responsibility of the construction planners and workers to establish barriers and appropriate safety measures. Drivers who do not know where to go or how to navigate a work zone may be confused and drive in the wrong direction if there are no signs or signals in place. Unsafe work zones can lead to accidents, injuries, and long-term pain and suffering.
Talk to a Maryland Construction Work Zone Lawyer
After an accident in a work zone, connect with a legal professional as soon as possible. Accident injuries can be severe and the physical pain and emotional distress can be lifelong. When you work with an experienced Baltimore car accident lawyer, the expenses and harm of a construction work zone accident can lead to a fair settlement. You need a professional negotiating with insurance companies for you.
Are you recovering from an injury sustained in a Maryland work zone accident? If you have high medical expenses, connect with a skilled attorney who can navigate complex claims. Have an experienced attorney work for you. Reach out to the legal team at Iamele & Iamele, LLP. With years of personal injury claim knowledge, our attorneys can help. Contact us today for a free initial consultation.
https://www.iamelelawfirmbaltimore.com/where-do-baltimore-slip-and-fall-injuries-happen/