Understaffed Nursing Homes In Maryland and DC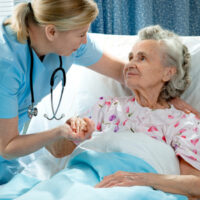 If you have a family member in an assisted living facility or a nursing home, you know how difficult it can be. Worrying about someone you love can be stressful. It is important you trust the people who are caring for your loved one. When families sign contracts, they assume everything that was agreed to is being followed to the letter, but that is not always true. There are times when nursing homes are understaffed.
Even when a facility claims they have enough employees, it may not be true. Some organizations have people quitting regularly, and it may take time for them to replace those workers. If you suspect your loved one is not being taken care of properly, or if there have been signs of mistreatment, discuss your situation with a Baltimore nursing home abuse and neglect lawyer.
Why There Are Risks When Places Are Understaffed
When there are not enough properly trained employees working at a nursing home, there can be many problems. If the workers are being pressured to work back-to-back shifts or are experiencing other overworked frustrations, nursing home abuse becomes more likely. Vulnerable residents should not be cared for by individuals who are angry and bitter. Plus, when employees are tired, they may make healthcare mistakes.
Because of insufficient staffing, the following problems could occur in a nursing home or care facility environment:
Dehydration issues or malnutrition
Prescription dose mistakes
Individuals with mobility concerns falling because no assistance is available
Living environments have unsafe or dirty
Healthcare concerns are not overseen
Personal hygiene is ignored or not adequate
Employee Retention Could Be One of the Issues
Managing a nursing home care facility or an assisted living housing building has a lot of concerns and expenses, but one of the main expenses is staffing. Because wages are a high cost, facilities may reduce positions when they have fiscal issues. The problem is cutting positions creates other problems.
One problem is when higher level staff is reduced because they are making higher wages. Losing licensed nurses and other certified professionals could reduce the level of care being provided to residents. Plus, when staff is being cut, it can be horrible for employee morale. It is common for individuals to quit when their teammates are laid off, this can further exacerbate issues with staffing and resident care.
If you are worried about a loved one in a nursing home, it is important you advocate for their needs. After all, many residents of facilities are unable to fight for their rights on their own. Misconduct, abuse, and medical errors need to be addressed. Whether the issues were the result of understaffing or another concern, a Baltimore nursing home injuries lawyer can help.
Residents of nursing homes have rights. Your family should not suffer due to staffing issues. Contact the legal team at Iamele & Iamele, LLP to understand your options. Our attorneys successfully secure compensation for personal injury victims in the Baltimore-Washington Metropolitan. Contact us today for a free initial consultation.
https://www.iamelelawfirmbaltimore.com/what-is-a-baltimore-personal-injury-claim/