Things to Know About Filing a Personal Injury Claim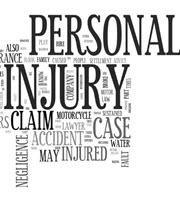 When people see attorneys settling personal injury cases in movies or on television shows, they see complex arguments come to a settlement in a short amount of time. That is not always the case. When filing a personal injury claim, work with your legal team to understand how the process works.
A Baltimore personal injury attorney can let you know what to expect. Reach out to discuss your situation today.
Accidents and Fault
Maryland follows the doctrine of contributory negligence. This means a person could be barred from recovering any amount if they have any level of fault in the cause of an accident. This may be true even if a person's contribution was slight. Discuss your case with an attorney.
When there are multiple parties involved in a case, things can get complicated. Sometimes who is being acting against shifts. Attorneys with decades of expertise know how to make adjustments when cases take unexpected turns.
Being completely honest with your attorney and filling them in on every aspect of the story is helpful. Anything that is withheld can lead to issues, problems that could prolong a case and add to expenses.
Understanding the Claims Process Can Take Time
Even if you think of a claim as one person against another, often claims involve a lot of people. There may be insurance adjusters, attorneys, legal support staff, and individuals who work for the court. It may take time for all of these individuals to have an understanding of the claim.
The insurance company alone will take time to assess what the monetary value of a personal injury claim might be. If there are multiple parties, there may be multiple adjusters who are suggesting increased or decreased settlement offers.
Plus, the amount of evidence available can impact timelines. When there is strong evidence, it may pave a clearer path toward conclusion. If there is limited or no evidence to support a claim, it can lead to a longer process. A Baltimore personal injury attorney can let you know what type of evidence can help.
Documentation that may help your personal injury claim:
Emails and text messages
Activity on social media
Pictures and videos
Insurance and medical paperwork
Part of securing strong documentation involves moving forward in a timely manner. For the best results, seek medical attention as soon as possible after an incident. This will help you to heal and provide the proof you need if you decide to file a claim.
Personal injury cases can take time and you deserve to have a talented legal team on your side. Acting quickly means you can still secure compensation even if injuries are not visible by the time the case is completed. With documentation, an experienced lawyer has a strong argument with insurance adjusters and court personnel, including judges and juries.
Are you moving forward with a personal injury claim? Contact the legal team at Iamele & Iamele, LLP to secure the results you are seeking. Contact us today for a free initial consultation.
https://www.iamelelawfirmbaltimore.com/what-to-do-after-a-motorcycle-crash/