Baltimore Rains Can Create Road Risks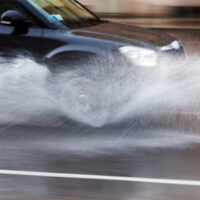 According to scientists, there are more rain and storm events in Maryland in recent years. This increase in wet weather has led to rising sea levels. It can also contribute to weather-related accidents. Too often, individuals do not take the weather into account when they travel as they are focused on their appointments and schedules. But wet weather is truly a risk when driving, some reports estimate 25% of car crashes are due to weather conditions.
After a weather-related crash, talk to a Baltimore car accident lawyer. Accidents are more likely when you are driving on wet roads in Baltimore and Washington DC and an experienced attorney can secure the compensation amount you need to heal and recover.
Hydroplaning Happens When Pavement Is Wet
While hydroplaning, also referred to as aquaplaning, can happen whenever roads are wet, it is more likely in the beginning of a light rain. This is because the rain can mix with oily deposits on roadways, leading to extremely slippery surfaces.
Essentially, hydroplaning is when your tires are unable to stop. The treads of the tire do not gain traction as the slippery surface has taken away the tires ability to grip the road. Avoid hydroplaning in the following ways.
Keep tires properly inflated. With the correct tire pressure, aquaplaning is less likely.
Resist urge to slam on brakes. Resulting in a control loss, individuals often slam on brakes and make the situation more dangerous.
Allow the car to coast. When hydroplaning, remove the foot from the gas pedal, regain control of the situation while allowing the car to coast for a short period of time.
Slowing Down Is Important
Another way to avoid hydroplaning and stay safe on rainy Maryland days and nights is to slow down. It is common for individuals to only think about speed limits when assessing their driving speed. But when there are poor driving conditions, the correct speed could be far lower. Slowing down is a way to remain in control and be alert to any unexpected hazards.
Because hydroplaning is more likely immediately after a rain storm starts, it is a good idea to slow down as soon as you see a raindrop on your windshield. The faster you drive in raining weather, the less time your tires have to keep you safe by channeling water away. Tire maintenance is important, but driver behavior is essential as well.
When you are facing medical fees and property damages expenses because a hydroplaning car hit your vehicle, discuss your situation with a Baltimore car accident lawyer. Compensation for lost income, doctor fees, and property may be possible. A skilled attorney can help.
Did a weather event contribute to your car crash? Let our attorneys work toward a fair settlement for you and your family. Do not be deterred by the suggestion of a reduced or denied claim. You have rights. Healing from car accidents is difficult, let us take care of the legalities. Reach out to the legal team at Iamele & Iamele, LLP to understand your options. Contact us today for a free initial consultation.
https://www.iamelelawfirmbaltimore.com/speeding-vehicles-cause-collisions/