Road Rash Injuries After a Baltimore or DC Area Accident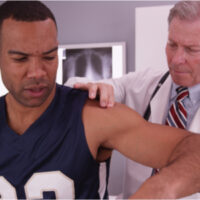 If you were involved in a car or motorcycle accident and sustained a skin abrasion, you could be diagnosed with road rash. These types of injuries are also possible after an electric scooter or bicycle crash. Road rash injuries are more common on joint areas of the body, such as ankles, elbows, and shoulders, but can happen anywhere on the body.
Thankfully, many road rash injuries are not serious. But there are times when they happen alongside other injuries or lead to life-long health complications. After an accident, connect with a Baltimore personal injury lawyer. There can be high expenses, including medical bills due to road rash. When another is negligent, compensation and damage recovery is possible.
Different Degrees Associated with Road Rash Injuries
While it is common for individuals to associate degreed injuries with burn injuries, road rash injuries often receive a degree category as well. Doing so gives a medical team a clear picture of the extent of the injury and what level of treatment is needed.
First-degree. Outer layer skin impacted. Road rash could heal with home treatment and scarring could be avoided.
Second-degree. When lower skin layers are exposed, the road rash may require extra attention.
Third-degree. Road rashes are severe when there is injury past the skin layers. Medical care is needed when there is damage to bone or muscle. Also, there can be a high risk of infection, which can lead to further health issues.
Seeking the opinion of a medical professional after a car accident is important, including for individuals with road rash injuries. There can be infection risk, for example. Infection could be present if the injured area is swelled, warm to the touch, drainage, or the victim has flu symptoms, including nausea, aches, or chills.
Treatment Plans and Antibiotics
Care for road rash depends on the injury. For some, antibiotics may be needed. Others may require more medical care. The health of the entire individual will need to be considered as road rash injuries can be one of many injuries experienced as a result of a car accident. Damage to nerves and tissues or disfigurement have been health concerns alongside road rash.
Preventative measures can help to reduce the likelihood of road rash when riding a bike or operating a motorcycle. During the summer months, even when temperatures are warm, it is important to keep skin covered. Protective clothing and gear can help if an accident does occur. That said, accidents happen and injuries are possible, even when preventative measures have been taken. A Baltimore personal injury lawyer can navigate your insurance claim for you.
Did you sustain a road rash and other physical injuries in a recent bicycle, car, or motorcycle crash in the Baltimore or DC area? If you have high medical expenses, connect with a skilled attorney who can navigate complex claims. Have an experienced attorney work for you. Reach out to the legal team at Iamele & Iamele, LLP. With years of personal injury claim knowledge, our attorneys can help. Contact us today for a free initial consultation.
https://www.iamelelawfirmbaltimore.com/maryland-insurance-and-bad-faith-insurance-claims/