Maryland Insurance and Bad Faith Insurance Claims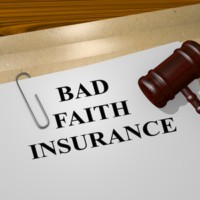 As a car owner in the state of Maryland, you likely make regular payments for your auto insurance. Your monthly or quarterly payments give you peace of mind that you will be financially protected in the event of a Baltimore car accident or DC collision. While this is true in many cases, there are times when insurance companies attempt to not pay out a proper amount to protect their own assets. Insurance companies cannot legally delay or deny a claim without reason, doing so could lead to a bad faith insurance claim or lawsuit.
You have legal protections as an auto insurance client. If you feel you have not been treated fairly, talk to a Baltimore car accident lawyer about the possibility of a bad faith insurance claim. This type of contract dispute may be necessary when the reasons for your denied or delayed claim is not explained clearly by the insurance company.
Love Offers, Delays, and Mischaracterizations
When shopping for car insurance, you may have made decisions based on the level of coverage. This is what you are relying on in the event of a collision. But there are times when negotiations become complex when a policyholder uses their coverage. Bad faith claims are possible when a person does not receive the compensation they are entitled to following filing a claim.
Insurance companies are required to process claims without inappropriate delays.
Policy cancellations. A company cannot void a policy for no good reason when a customer wants to use it.
Low settlement offers. Compensations should be fair, a low amount to benefit the insurance company is not acceptable.
Improper investigations. Damage assessments need to be done properly and fully.
Language in the contract must be clear and cannot be interpreted differently after a collision
Claim denial. A dental needs to have a satisfactory reason attached to the determination.
Bad faith insurance activity is against the law. If you feel you were not treated fairly, discuss your situation with the insurance adjuster, they may be able to provide clarity. If not, talk to a legal professional about next steps.
There are Differences from State to State
While state guidelines and laws differ, there are basic protections for all U.S. auto insurance policyholders. Bad faith claims have been filed in Maryland and around the country.
If you are wondering what level of compensation you could receive for a bad faith claim, talk to a Baltimore car accident lawyer. There are times when large settlement amounts are possible as insurance companies have a lot of resources. Sometimes, for an award to be punitive, the amount has to be high.
Are you curious about what options you have after your auto insurance claim settlement was delayed or denied? The legal team at Iamele & Iamele, LLP is available to discuss your situation, from car and truck accidents to motorcycle accidents. Our attorneys successfully secure compensation for accident victims in the Baltimore-Washington Metropolitan. We have extensive knowledge and experience in vehicle cases. Contact us today for a free initial consultation.
https://www.iamelelawfirmbaltimore.com/did-you-dislocate-your-knee-in-a-car-crash/