Reporting Maryland Car Accidents that Result in Property Damage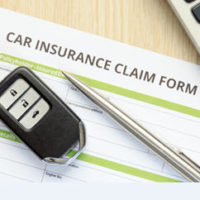 Across Maryland and the United States, car accidents are an unfortunately regular part of life. The worst car accidents result in physical injury to or even the death of a person. In less severe cases, however, the accident only results in property damage. Either way, Maryland law requires any drivers involved in an accident to report certain information to other drivers or property owners.
For more information on the general reporting requirements for Maryland car accidents — including incidents that result in physical injury or death — interested readers can review this recent Iamele & Iamele blog post: What are the Reporting Requirements for Maryland Car Accidents?.
Returning to the topic at hand, Maryland state law provides clear guidelines for reporting car accidents that result in property damage, even if there is no one else present at the scene. Ultimately, the driver who caused the accident must stop their vehicle and provide certain required information.
Reporting Requirements for Damage to Unattended Property
For car accidents that result in damage to unattended property, Maryland Code of Transportation Section 20-105 requires the driver to stop their vehicle as close as possible to the accident site. Though in the process of stopping, the driver must refrain from unnecessarily obstructing traffic.
Even though the damaged property is unattended, Section 20-105 requires the driver to attempt to locate the property owner and provide the following required information:
Driver's full legal name;
Driver's permanent address;
Vehicle registration number;
Vehicle owner's full legal name; and
Vehicle owner's permanent address.
Even if the property owner is not present or readily available, the driver must comply the reporting requirements anyway. After making a reasonable effort to locate the property owner, the driver may write the required information above on a note. Then the driver must leave the note in a conspicuous and secure place, ensuring that the property owner receives the required information.
Any driver who violates Section 20-105 is subject to a two-month term of imprisonment and a maximum fine of $500.
Car Insurance Reporting Requirements
In addition to the standard reporting requirements for car accidents, Maryland Code of Transportation Section 20-105.1 requires the driver to disclose their automotive insurance information as well. The insurance reporting requirement applies to all car accidents, whether the incident resulted in property damage, physical injury, or death.
In specific terms, any driver involved in a car accident must provide the following automotive insurance information wherever possible:
Name and address of automotive insurance carrier;
Identifying name or number of the automotive insurance policy, if available;
Name and address of the local insurance producer, if available; and
Evidence of vehicle self-insurance, if applicable.
Let Us Help You Today
If you have legal questions about a car accident in Maryland, it can be decidedly valuable to consult with a dependable personal injury attorney. The attorneys at Iamele & Iamele, LLP in Baltimore, Maryland, have a wealth of knowledge in the field of personal injury law, including car accidents. If you need legal help, contact us today for a free initial consultation.
https://www.iamelelawfirmbaltimore.com/car-insurance-regulations-in-maryland/