Physical Effects of Whiplash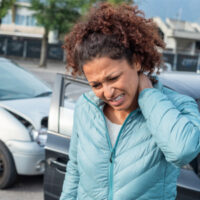 Whiplash is a common car accident injury. In fact, it is one of the most common injuries when one vehicle hits another from behind. Rear-end collisions often result in a person having their heads and necks moved in a harsh and unnatural way. For some, whiplash is not severe and they are able to heal quickly with the help of rest and treatments, but the injury should not be underestimated. There are others who suffer for years or fail to seek doctor advice immediately and prolong their pain and suffering.
Whiplash Symptoms and Treatments
There are a variety of whiplash symptoms and they are not always immediately felt. It is common for people to experience symptoms a day or more after an accident. Seeking medical attention immediately after a car accident is always advised. The following whiplash symptoms may be felt immediately or surface within a few days of the traumatic event.
Headaches or head pain
Stiffness or pain in neck, shoulder, or shoulder blades
Weakness or tingling in arms, hands, or legs
Memory issues and dizziness
Sleep disruptions
Back pain
Feeling weak and fatigued
Serious whiplash cases may feel minor at first. All issues should be addressed immediately as minor symptoms can be indicators or larger issues.
Treatments for whiplash depend on the injury. If the injury is minor, rest and icing the injured area may be enough. Others find relief through physical therapy and massage. Some whiplash cases are severe and require surgery to heal appropriately. When a case results in a lot of pain, medication and injections may be necessary.
When you see a doctor for whiplash symptoms, they will likely ask you about how the injury happened and where you are experiencing pain. It is also possible they will ask you to describe the pain and do an exam to assess your range of motion.
Expenses can be high after a Baltimore car accident. If another person or entity is responsible for the injurious event, you should not have to pay for all of the medical bills on your own. If you are juggling hospital bills and physical therapy fees because of a whiplash injury, talk to a Baltimore car accident lawyer about what options are available for your situation.
Healing Timelines Vary
There is no set timeline for healing from whiplash. Recovery times can last for days, weeks, or months. Of course, if there are other injuries or health issues, the healing timeline may be extended. Longer recovery times are also likely when there is nerve damage. Whiplash victims who have nerve damage may experience numbing and weakening of various areas of the body.
Have you or a loved one suffered from whiplash in an auto accident? Let our Baltimore car accident lawyers work toward a fair settlement for you and your family. Do not be deterred by the suggestion of a reduced or denied claim, fight back. Reach out to the legal team at Iamele & Iamele, LLP to understand your options. Contact us today for a free initial consultation.
https://www.iamelelawfirmbaltimore.com/baltimore-car-accidents-can-cause-delayed-onset-injuries/