Occupational Injuries and Older Workers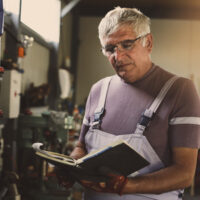 More and more people are working past the retirement age of 65. Some continue to work for financial reasons, while others choose to work for the enjoyment of their job and the social interaction of their workplace.
Whatever the reason an individual chooses to work beyond retirement, the truth is that for many people there are risks to staying employed in their retirement years. According to the Center for Disease Control and Prevention, occupational injuries decrease with age but the injuries that do occur are more likely to be fatal for those who are older, with this  frequency jumping dramatically around the age of 60.
If an injury workplace occurs, at any age, you may be able to collect workers' compensation. And when a fatal accident occurs, dependents are eligible for compensation according to Maryland Code of Labor and Employment. Talk to a Baltimore personal injury lawyer about your situation to understand your rights.
Accident Causes for Older Workers
Of course, workers have to make their own decisions and continuing to work past retirement age is rewarding for many individuals. Being aware of risks can help, because then you can take action to help avoid injuries.
Some of the risks for older workers:
Physical limitations that may come with age can increase accident risks. Hearing loss and vision loss can lead to more slips and falls, and hearing loss and vision loss increase over time.
Relaxed attitude toward workplace safety, familiarity can lead to complacency. Plus, people can lose muscle strength with age, so a dangerous situation can escalate quickly.
Stress injury risk can be exacerbated by age. This is true of repetitive strain injuries, too. This includes tennis elbow, carpal tunnel, and rotator cuff tendonitis.
Often people do not stay up to date with changing safety regulations which can lead to falls. Falls are sometimes minor, but in other instances debilitating injuries can occur.
Whatever your age and job, it is essential that you are properly trained and certified for the task you are assigned. There are many cases where a forklift operator was not properly trained and injuries were a result. Also, there are times when an employee is slack, not wearing seat belts on forklifts, for example.
How to Protect Yourself from Injury
At every age, and especially when an individual is an older worker, maintaining good health and taking necessary precautions can help a worker to avoid workplace injuries, from minor to fatal.  Participate in a regular exercise program, staying strong and agile can help to sustain your physical capacity. Also, be sure to take breaks when appropriate to avoid overexertion.  Other things you can do is speak to your supervisor about changes in the workplace to shield your health. An example of this is when an office worker is able to boost the ergonomics of their desk space or office.
If you have been injured at work, contact a Baltimore personal injury lawyer. The attorneys at Iamele & Iamele, LLP in Baltimore, Maryland, have the experience you need. If you need legal help, contact us today for a free initial consultation.
Resource:
cdc.gov/niosh/topics/productiveaging/dataandstatistics.html
https://www.iamelelawfirmbaltimore.com/hit-and-run-car-accident-in-maryland-results-in-dui-charges/