Nursing Home Neglect Can Include Bedsores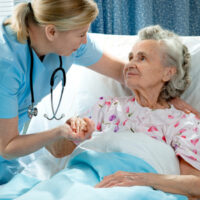 You may also hear them called pressure ulcers, pressure sores, or decubitus ulcers, but the more common term for the open skin wound is bedsore. The injury occurs when the body weight of a person presses that individual's skin into a surface that is hard. This could be a chair or a bed, for instance. The pressure reduces blood supply and can result in a bedsore.
If you have a loved one who lives in a nursing home and has limited mobility, they may be at risk. It is essential the staff is doing what they can to limit the possibility of bedsores occurring. If they do, it could be a sign of negligence.
Being worried about a loved one's care in a nursing home can be extremely stressful. You need to learn what options are available. Speak with a Baltimore nursing home abuse and neglect lawyer to understand how to move forward.
There Are Ways to Prevent Bedsores
Bedsores can be prevented and if they happen they can be treated. What you want to know is that the staff of a nursing home is doing everything they can to avoid the possibility of the ulcers occurring and treat them right away if they do form.
Things staff should be doing to avoid bedsores:
Avoid pressure to one part of the body by moving the person frequently
Make sure there is hydration and nutrition each and every day
Assess parts of the body prone to bedsores regularly
If proper prevention steps have not been followed and someone you love develops bedsores in a hospital or nursing home, it may be a sign of negligence. And if the problem does occur, the nursing home staff should do everything they can to heal the skin as soon as possible. If you have concerns about something you have seen within a nursing home, talk to a Baltimore nursing home abuse and neglect lawyer.
What Areas of the Body Prone to Bedsores?
There are instances when individuals visit a loved one in a nursing home and they have concerns but they do not know how to assess if there are bedsores. One way to start a conversation about the issue is to ask the person living in the nursing home if they have any physical pain in the areas prone to bedsores, including elbows, heels, tailbones, and the spine.
And when there are concerns, talk to the staff about anything on your mind. If there are bedsores, inquire how long they have been present and how the issue is being treated. Your family deserves information and you need to be confident the bedsores are being treated and there is no risk of further infection. Because infections can happen.
Talk to a Baltimore Nursing Home Abuse Lawyer Today
People who are injured while in a hospital or nursing home have rights. You need a knowledgeable and experienced personal injury attorney to secure the compensation you and your family are entitled to. Contact the legal team at Iamele & Iamele, LLP to understand your options. Our Baltimore nursing home abuse and neglect lawyers successfully secure compensation for personal injury victims in the Baltimore-Washington Metropolitan area. Contact us today for a free initial consultation.
https://www.iamelelawfirmbaltimore.com/emergency-room-mistakes-in-maryland/