Injuries from Low-Impact Collisions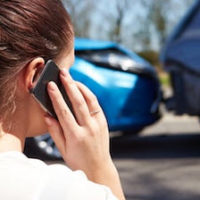 Many mistakenly believe a low-impact crash does not cause injuries. In part, because when impact is low there is typically not a direct impact to the body of the driver and passengers. But serious injuries can occur, even when the car itself sustains minimal damage.
Low-impact car accidents are defined in different ways by different people, but it is common for car insurance adjusters to refer to a car accident that results in vehicle repairs less than $5,000 as low impact events. But even if you were involved in a fender bender and did not go to the hospital in an ambulance, injuries are possible. After a low impact collision injury, talk to a Baltimore car accident lawyer about compensation.
Causes of Low-Impact Accident Injuries
Cars and trucks are large machines weighing thousands of pounds. So when there is an impact, even at a low speed, the force can be extreme and push the individuals in the vehicles in awkward ways, causing injuries.
Low-impact accidents happen for a variety of reasons.
Distracted drivers
Visibly is poor
Wet or icy roads
Right of way miscommunications
Drivers not leaving enough room between vehicles
Injuries that can occur due to these low-impact collisions include herniated discs, lumbar spine injuries, whiplash, limited mobility, bruising, and more. Because some of these and other low impact car injuries do not have noticeable physical signs, an insurance company could dispute the injury's connection to the crash.
Even if a vehicle did not sustain damage, individuals who sustained sprains and strains can experience pain and long recovery times. It is important to see a doctor to have your injury assessed properly. Be sure to keep copies of any health reports, treatments, and prescriptions. These forms of documentation can help to secure proper compensation.
Why Work with an Attorney
If you or someone you love has sustained injuries in an accident that happened at a low speed, you know that it is possible to cope with injuries for months or years after a collision. Obtaining compensation that is fair may be difficult, particularly if the wreck did not harm the vehicle itself. When you speak with a Baltimore car accident lawyer, you can learn how proper legal counsel can boost the possibility of securing damages for lost income, medical fees, and pain and suffering.
Experienced attorneys have the expertise and professional contacts that help to build a strong case. Car accidents can cause injuries, even low-impact wrecks. This knowledge can pave the path to a fair settlement from an insurance company when another party was negligent.
Are you suffering from a neck injury after a low-impact collision? Let our Baltimore car accident attorneys work toward a fair settlement for you and your family. Do not be deterred by the suggestion of a reduced or denied claim. You have rights. Healing from car accidents is difficult, let us take care of the legalities. Reach out to the legal team at Iamele & Iamele, LLP to understand your options. Contact us today for a free initial consultation.
https://www.iamelelawfirmbaltimore.com/are-you-suffering-from-income-loss-after-a-car-accident/