Are You Suffering from Income Loss After a Car Accident?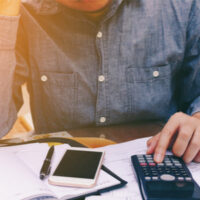 After a car accident or other event that results in injury, it is possible you need time off from your job so you can receive treatment and heal. There are even times when individuals are unable to completely recover and work as they did prior to the injury, particularly if a person sustained severe physical harm.
When income is lost, there are legal protections when another is liable for your injuries. Talk to an experienced Baltimore personal injury lawyer about the possibility of securing lost wages as part of a personal injury compensation package.
Calculating Lost Income
Of course, in order to land on a compensation amount for lost wages, the income that was not received needs to be determined. If you are an hourly employee, the calculation will begin with how much work was missed and how much you would have been paid for each hour of work. This means a person who earns $20 an hour who lost out on 80 hours of work, which is about the hours a full time employee would work over a two week period, could be eligible for $1600 of lost income compensation. This amount would be added to other amounts of a personal injury claim, including medical expenses.
On top of base income, other compensation may be added too. For example, if you consistently received overtime, these hours may be added to a compensation amount.
Lost Wages Will Need to Be Proven
Simply saying you lost income is not enough. You and your Baltimore personal injury lawyer will need to provide proof in order for income loss to be included in a personal injury compensation settlement amount. Each situation has its own variables, but in general, you should expect to gather some or all of the following documentation.
A letter from your employer that includes what your job title, how long you have worked at the organization, and your rate of pay.
Paycheck stubs.
Tax returns.
Bank statements.
What will be included in the letter from your employer will vary. For example, if you want to include overtime pay, the employer letter could include the amount of overtime you typically work, along with any other losses beyond your base wage, including bonuses, educational opportunities, or vacation days.
Potential income that cannot be accessed because of an injury from a car accident or other traumatic event may also be part of a personal injury claim. When an individual is unable to work after an accident, or if they are not able to work at the same capacity in their chosen career, legal experts will assess future earning potential that has been lost. There could be promotions that will not happen or other career advancement opportunities that will no longer be possible because of an injury or disability.
Are you struggling with a loss of income as you recover from a car accident or other injurious event? Talk to the legal team at Iamele & Iamele, LLP. With years of experience, our attorneys successfully secure compensation for personal injury victims in the Baltimore-Washington Metropolitan area. Contact us today for a free initial consultation.
https://www.iamelelawfirmbaltimore.com/strengthen-your-claim-with-photography/