I Don't Think I Can Afford a Lawyer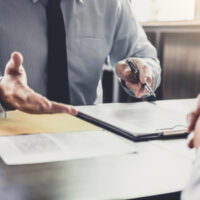 If you were in a car crash in Maryland or the DC area, you may have hospital bills arriving daily in the mail and you may be unable to work because of your injuries. In these situations, people may not want to talk to a lawyer because they fear an additional expense. But actually, a lawyer can boost your financial situation. And payment typically happens once a settlement is reached.
When you understand the pay structure of an attorney you choose to work with, you may find that working with a lawyer is one of the best things you can do for your finances. After all, insurance companies are looking out for their bottom lines, and they have legal teams on staff. To boost your likelihood of achieving a maximum settlement amount, discuss your situation with an experienced Baltimore car accident lawyer.
Connect Sooner than Later
The first step to working with a seasoned attorney is to reach out. Putting off a phone call is not advised as you could be losing valuable time that could have been put to use strengthening your claim.
And when it comes to personal injury lawsuits, there are statutes of limitations to keep in mind. For example, if you were in a car accident in the state of Maryland, the statute of limitations for a personal injury lawsuit is three years. In order to make sure everything moves forward on time and completes, it is best to talk to a legal representative as soon as possible.
Once you have connected with a Baltimore car accident lawyer, the process of collecting documentation can begin if your attorney feels you have a strong argument. When a person is seeking a maximum settlement amount, securing strong, solid documentation and evidence is an essential part of the process.
An Arrest Is Not Part of a Personal Injury Case
If an accident occurred because a driver was intoxicated or participated in illegal activity, they may be facing a criminal charge in addition to a personal injury lawsuit. These are separate cases. For instance, a person does not have to wait for a criminal charge to be resolved before filing a personal injury case. There are details that are unique to each situation, so discussing the details of your situation with an attorney is advised.
When a person or entity is liable, compensation packages are possible. Naturally, when a victim is seeking a large amount, there may be more resistance. A legal professional experienced in personal law can help you achieve your damage recovery goals. Lawyers know when an offer is fair. They also recognize settlement offers from insurance companies that are not as large as needed given the supporting evidence.
Have you been receiving enormous hospital bills after your injury in a Baltimore car wreck? If you have high medical expenses, connect with a skilled attorney who can navigate complex claims. Reach out to the legal team at Iamele & Iamele, LLP. With years of personal injury claim knowledge, our attorneys can help. Contact us today for a free initial consultation.
https://www.iamelelawfirmbaltimore.com/baltimore-and-dc-condo-owners-and-slip-and-fall-claims/