How to Avoid Drivers with Road Rage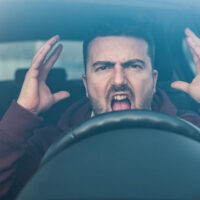 Did you know that many Americans admit they have driven while experiencing road rage? In fact, an insurance comparison company reported 82% of the vehicle drivers they surveyed acknowledged they've driven aggressively in the last year.
Angry drivers who are not in control of their emotions can cause accidents. Take steps to avoid road rage drivers for your own protection. And if you are in a crash involving an aggressive driver, discuss your situation with a Baltimore car accident attorney right away.
How to Detect Aggressive Drivers
If an individual is angry and driving aggressively, they are likely so consumed with their emotions they do not recognize what a hazard they are to themselves and others on the road. Crashes do happen as a result of drivers with road rage. Staying away from these vehicles is recommended.
Indicators that a driver may have road rage:
Excessively honking a car horn at one car or many vehicles.
Weaving through traffic abruptly and suddenly.
Yelling at other drivers or exhibiting rude gestures.
Driving a vehicle too close to other vehicles or on the shoulder of the road.
Be Calm and Reduce Risk
Avoid aggressive drivers when possible and do not react to their words or gestures with insults of your own. Give their car space. When a driver is impatient, let them pass. Blocking them only feeds their anger and upset.
Keep your emotions in check and drive safely yourself. To reduce the likelihood you will tailgate or drive aggressively yourself, leave yourself plenty of time to make appointments. Being late for a commitment is a common start to feelings of frustration and rage on the road. Make it a habit to leave a bit early to help you avoid anger when driving.
That said, you can't control the emotions of others. If there is an aggressive driver who is threatening you, call the police. If you feel the other driver is following you or is seeking a physical fight with you, be sure to only stop at a location where there are others who can help you. Contact a Baltimore car accident attorney if you have been a victim of someone's road rage.
Emotions don't last, so there are many examples of aggressive drivers feeling remorse after some time has past. Of course, there are circumstances when the damage has already been done. Even if they say they are sorry, you should not accept any offers to settle financially without talking with a lawyer first. The expenses involved with car accidents, from medical bills to lost wages, can be extremely high. An attorney will help you understand what compensation amount is appropriate.
After a road rage incident, you need an experienced attorney on your side. Contact the legal team at Iamele & Iamele, LLP to understand your options following a car crash. Our attorneys successfully secure compensation for accident victims in the Baltimore-Washington Metropolitan. We have extensive knowledge and experience in car accident cases. Contact us today for a free initial consultation.
https://www.iamelelawfirmbaltimore.com/dangers-of-driving-when-tired-in-baltimore/