Dangers of Driving When Tired in Baltimore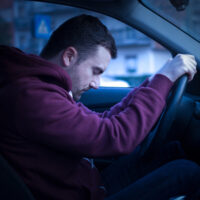 With work commitments and family obligations, many are not getting the amount of sleep their body needs. Too often, sleeping and getting adequate sleep is prioritized. Sleep deprivation can lead to many issues, including car accidents and health problems.
People follow their daily routine, even when they are exhausted. They are not thinking clearly and their reflexes are not sharp. Driving when tired is a problem in Baltimore and around the country. If you were in an accident and you believe a drowsy driver was responsible, reach out to talk with a Baltimore car accident lawyer.
How Drowsy Drivers Create Risks
While it is understood that driving while intoxicated is dangerous, not everyone understands the risks of driving drowsy. Yet when a person drives and has not slept for 24 hours, driving skills deteriorate. They are on par with a person who has a 1.0 blood alcohol level. According to Maryland law, the legal limit is a 0.08 blood alcohol, or less, when driving. That means a drowsy driver can be just as dangerous as a driver who has a blood alcohol level above the legal limit.
Plus, if a person who has trouble sleeping uses sleep aids, the problem can grow. Sleep aids need time to process through a person's system. In most cases, a body needs a minimum of seven hours to process the aids. A safe driver is someone who does not get behind the wheel when they are too tired or when they still have a sleep aid in their bloodstream.
Ways to Avoid Drowsy Driving
If your body is tired, it needs to sleep. The best solution is to create the time and space needed for your body to rejuvenate.
Follow a few rules to be sure you are safe when driving:
Reschedule your driving. If you or your loved one is too tired to drive, take a nap and arrive at your destination safely a few hours later.
Short term energy boosts. Some people find caffeine from coffee, soda pop, or tea can be a fast way to feel better, if even for a short period of time.
Be aware of body cues. When your body is telling you it is time to rest, through repetitive yawning or heavy eyelids, listen to your body and find a place to stop and rest.
Choose another driver. When there is another person in the car who is licensed and well rested, let them take the wheel. Having more than one driver can help, particularly on long car trips.
The truth is, even when you and your family is doing everything possible to drive safely, there are other drivers on the road you cannot control. You may suffer injuries in an accident because someone else was tired and driving. In those cases, compensation may be possible. Look over your case with a Baltimore car accident lawyer.
The legal team at Iamele & Iamele, LLP is available to discuss your situation, from car and truck accidents to motorcycle accidents. Our attorneys successfully secure compensation for accident victims in the Baltimore-Washington Metropolitan. We have extensive knowledge and experience in vehicle cases. Contact us today for a free initial consultation.
https://www.iamelelawfirmbaltimore.com/what-are-the-reporting-requirements-for-maryland-car-accidents-2/