How Can I Protect Myself when Riding a Bike In Baltimore?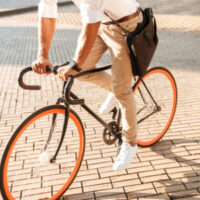 Summertime has many wonderful things, including longer days and warmer weather. Because of the summer weather, many in Baltimore and the surrounding area are spending more time on their bikes. Some are riding on their own and doing errands, others are enjoying family time recreationally. While there are wonderful bike trails, from the Jones Falls Trail to the Lake Montebello-Herring Run Trail, bicyclists may still need to get to the trailhead through navigating city streets full of cars. And when cars and bikes collide, injuries can happen.
Of course, the best thing to do is to stay safe and avoid harm. But if an accident does happen, do not feel that you have to pay expenses incurred due to the negligence of another.
A Baltimore bicycle accident lawyer can walk you through your compensation options.
Helmets, Safety Features, and Bike Inspections
Bike helmet laws are not consistent nationwide. That said, it is best to wear a helmet as a way to avoid some head injuries in the event of an accident. According to Maryland law, everyone under 16 years of age is required to wear a safety helmet when riding a bike. It is also advisable to invest in reflective clothing, bike lights, and a horn or a bell to alert others.
Some other Maryland safety bicycle laws include the following:
A bicyclist must travel in a bike lane when they can.
Red rear reflectors are required.
Headphones may not be worn on both ears when riding a bike.
Front bike lamps are required.
Vehicle drivers are not allowed to pass a bicyclist if they are unable to give them a certain amount of space.
Safety features can be put on the bike when looking over the bicycle. Inspecting a bike before going riding is your best bet, as things can shift when a bike is in storage for months or years. A bike seat may not be secure or at the right height, for example.
Staying Visible Is Essential
When bicycling, is it important for cyclists to stay visible and obey traffic rules. There can be a temptation for cyclists to not stop completely at stop lights or weave through traffic because bikes are smaller and more nimble than a car. But following traffic signs, signals, and rules is essential for safe riding. Part of this is using turn signals, for a bicyclist this is arm signals, which keep others on the road aware of upcoming movements.
Following rules and riding carefully is a way to help avoid accidents. Avoiding crashes is crucial as collisions can result in severe injuries and may even require hospitalization. If you have hospital debt because you were hit by a car when riding a bike, a Baltimore bicycle accident lawyer will work to secure the compensation you deserve.
If a vehicle caused you injury when you were riding a bike, speak with an experienced personal injury lawyer. Contact the legal team at Iamele & Iamele, LLP. Our attorneys successfully secure compensation for accident victims in the Baltimore-Washington Metropolitan. Contact us today for a free assessment.
https://www.iamelelawfirmbaltimore.com/can-i-be-compensated-for-a-maryland-theme-park-injury/