Can I Be Compensated for a Maryland Theme Park Injury?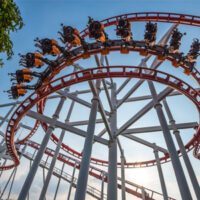 While many families enjoy amusement parks, there can be injuries connected to roller coasters and other rides. The activities at theme parks range in size and so do theme park injuries. In some instances, amusement park rides result in serious harm.
There are many theme parks in Maryland, including Jolly Roger Amusement Park and Six Flags. While you do not hear of amusement park injuries every day, they are more common than you realize. If you or a family member suffer an injury at theme park due to negligence, discuss your situation with a Baltimore personal injury attorney.
Things to Do When a Theme Park Injury Occurs
Anytime an injury happens at an amusement park, it is important to seek medical attention right away. This is, of course, important so an individual can heal as quickly as possible. In addition, it helps to strengthen a personal injury claim should one be filed in the future.
Steps to take after a park injury:
Seek medical attention right away.
Let an employee of the amusement park know what happened.
File an incident report and request a copy.
If compensation is offered, do not accept it.
Photograph where the accident happened.
File away proof you were there, receipts and photos.
An experienced attorney is able to look over your documentation and have an understanding of how strong your claim is. From there, you can move toward compensation.
Amusement Park Claims Can Be Complicated
Theme parks do spend millions of dollars on safety, yet people are still injured every year on roller coasters and water rides. Rides can result in whiplash injuries to an individual's neck, head, or back, broken bones, traumatic brain injuries, and more. Sometimes injuries happen because ride operators are not properly trained. Or, accidents occur because staff is not paying attention to risks and warnings. In other circumstances faulty products and mechanical defects are to blame.
In many instances, theme parks are owned and managed by large organizations who are aware of risks. Because of this, they likely have legal departments in place to navigate personal injury claims. These departments work hand in hand with insurance companies to settle a claim for the smallest amount possible.
Many rides have warning signs in place. Some theme parks require visitors to sign liability waivers when they visit. Each situation is unique and needs to be discussed with an experienced attorney.
And rides are not the only places injuries happen, harm also happens when there are cracked walkways, trams and trolleys operated improperly, or unsanitary food practices at concession stands.
After an amusement park, theme park, waterpark, or county fair injury, it is important you seek legal advice. A Baltimore personal injury attorney can review your case and let you know what type of compensation is available.
Were you injured due to another's negligence? Reach out to the legal team at Iamele & Iamele, LLP and share your story and documentation. Then, compensation questions can be answered. Contact us today for a free initial consultation.
https://www.iamelelawfirmbaltimore.com/can-i-receive-settlement-after-a-dog-attack/