Electric Cars and Safe Pedestrians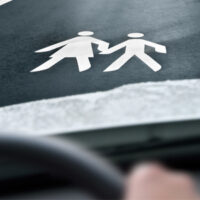 Many enjoy walking in Baltimore, taking in all of the unique neighborhoods and the waterfront. There are historical landmarks too, such as the Washington Monument and Mount Vernon Place United Methodist Church. But it's important pedestrians stay safe, and many do so by using their senses, such as sight and hearing, to be alerted of dangers. Because this is known, municipal trucks have flashing lights and commercial trucks beep when going in reverse. When electric cars are silent, it can be risky to pedestrians and bicyclists.
There are many advantages to choosing an electric or hybrid vehicle, such as tax credits, environmental benefits, and that they are quieter options compared to gas powered vehicles. But the quiet of the vehicles can be risky to others on the road that may not recognize a car is near. There are laws in place to protect pedestrians and bicyclists but electric car accidents do still happen in Maryland. After a car accident injury, talk to a Baltimore car accident lawyer.
Things Pedestrians and Drivers Can Do
Personal choices can help to reduce the likelihood of an accident. Pedestrians and bicyclists, for example, should not solely rely on their sense of hearing. A vehicle could still be moving nearby, even if it is not heard. Be aware of your surroundings and understand the risks of certain environments. For example, in parking lots, there are often cars reversing out of parking spaces. Be ready to move accordingly. If you choose to travel in areas with low light, reflective or bright clothing can help cars see you as well.
Electric and other car drivers can do the following:
Avoid assuming a person has seen or heard you.
Use car safety features, from blind spot sensors to collision warnings.
Remind yourself that pedestrians have the right of way in crosswalks.
Introduce everyone who uses the car to all of the risks and safety features.
If you do find yourself in an accident involving an electric or hybrid vehicle, discuss your situation with a  Baltimore car accident lawyer.
There Are Laws to Protect You
In 2011, the Pedestrian Safety Enhancement Act was passed to help reduce the risks of quiet electric and hybrid cars. These changes have been helpful in keeping pedestrians and bicyclists safe, but the fact remains that gas powered cars are louder and are less likely to be in accidents.
Claims and lawsuits involving hybrid and electric vehicles can be complex. You need a legal professional on your side. Lawyers know what evidence is needed and how to obtain it, from police reports to expert assessments. Expert testimonials can be extremely useful when you need compensation for future wage loss or medical care.
Are you a Baltimore pedestrian who was struck by an electric car? If you have high medical expenses, connect with a skilled attorney who can navigate complex claims. Reach out to the legal team at Iamele & Iamele, LLP. With years of personal injury claim knowledge, our attorneys can help. Contact us today for a free initial consultation.
https://www.iamelelawfirmbaltimore.com/maryland-laws-and-baltimore-car-accidents/