Distracted Walking Creates Risks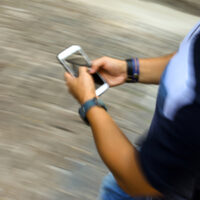 It is common knowledge that distracted driving increases accident risk. But too often, people fail to remember there are other times when distracted behaviors can lead to accidents and injuries. Distracted walking can lead to severe injuries. According to one report for the Center for Disease Control and Prevention, within one year there were over four thousand pedestrian deaths and 76,000 pedestrian injuries. In some of these situations, distracted walking played a role.
Smartphones and devices are part of the problem, these items can lead to individuals not paying attention to their surroundings. Then, pedestrian accidents can happen. If you were struck by a car and injured when you were walking down the street, discuss your situation with a Baltimore personal injury attorney. There may be a path to compensation for hospital bills and income you lost due to needing to be off work to recover.
Trips, Sprains, Falls, and Bone Breaks
When people are texting while walking, or participating in other distracted walking behaviors, it is possible for the person to get hurt. While walking feels like a natural activity that can easily be done while multitasking, the truth is the human brain is not able to efficiently move between one task and another. Full attention can only be applied to one thing at a time.
Traffic risks can lead to severe injuries. When individuals are struck by a moving vehicle, they can end up hospitalized with brain trauma, broken bones, and other injuries. Distracted walking can even lead to people tripping on unexpected breaks in the sidewalk, resulting in sprains, bruises, cuts and concussions.
Things to keep in mind for pedestrian safety.
Obey all traffic signals. Too often, individuals think of traffic signals as signs for vehicles to follow. But for everyone's safety, traffic signals must be followed by everyone, including cars, bikes, and pedestrians.
Stay visible. If you are walking at night or during overcast conditions, keep in mind that you might not be visible to traffic and others. Some solutions could be wearing clothing that is light or reflective and choosing to walk in an area that is well lit.
Use the crosswalks. Similarly to following traffic signals, pedestrians need to cross streets where it is safe and appropriate. Injuries are possible when an individual jaywalks or crosses in an area with no designated walkway.
Distracted walkers who are using cell phones may fail to stop at an intersection. And when distracted walkers do cross, they may walk slower because they are not paying attention, putting them at an increased risk of a traffic injury.
After a traffic accident, there could be a path to damage recovery. If you were injured in an event involving a distracted walker or a reckless driver, contact a Baltimore personal injury attorney to discuss your compensation options.
Are you a Maryland pedestrian that was harmed? Reach out to the legal team at Iamele & Iamele, LLP. If you had the right-of-way compensation is likely possible. It is the responsibility of both drivers and walkers to keep roads safe. Contact us today for a free initial consultation.
https://www.iamelelawfirmbaltimore.com/tell-the-truth-when-talking-to-your-attorney/