Delayed Cancer Treatments Could Be Medical Malpractice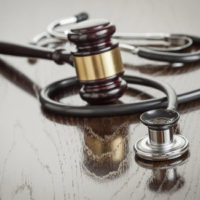 Cancer impacts many families. Almost everyone has had cancer touch their lives, knowing a parent, friend, or coworker who has had some form of cancer. A group of diseases that are connected as they all involve abnormal cell growth, cancer can spread and take lives.
Living in the Baltimore area, residents benefit from having access to some of the best hospitals in the country. But, early cancer detection and proper diagnosis is still key to successful outcomes. If cases are misdiagnosed or treatment is delayed, an individual's health can suffer. If you or someone you love is suffering because of a delayed cancer diagnosis, review your situation with a Baltimore medical malpractice lawyer.
Diagnosis and Treatments Must Be Timely
Failure to provide care in a timely manner could launch a medical malpractice claim. Medical records and notes from doctor appointments can help to strengthen claims. For a successful claim, it will have to be proven that the practitioners were not providing proper care.
Medical malpractice is not always present when there is a delayed diagnosis. The following will have to be proven:
Healthcare provider failed to give adequate care to patient
Patient was harmed by the failure to provide care
Direct relationship between patient harm and the negligent act
Experienced attorneys assess cases and, when appropriate, connections can be established between the patient harm experienced and the negligence of doctors. When a delayed cancer treatment is part of the claim, a lawyer would need to prove a better outcome could have resulted if proper care had been provided. The care could apply to a variety of providers, including primary care doctors, surgeons, and oncologists.
Ways Cancer Diagnoses Delays Occur
There are a variety of ways that failure to diagnose can happen. A doctor could not consider a cancer diagnosis because they assume the symptoms the patient is experiencing is in connection to a more minor condition. The practitioner could also fail to order the correct tests, including the following:
CAT scans
MRI scans
Blood review
Also, tests can be interpreted improperly. But doctors must have a patient's health as a top priority, so it is their responsibility to rule out more serious illness when reviewing a patient's symptoms. When symptoms are present and persistent, it should not be assumed the condition is minor.
When you review your situation with a legal team that has success in medical malpractice claims, you will have a clear understanding of how to move forward. For example, a Baltimore medical malpractice lawyer knows what type of documentation is needed and what the timelines are for filing claims and litigating a case in court.
Were you a victim of a delayed cancer treatment? Are you struggling to recover physically and financially? To achieve optimal results, you need an attorney working for you. Contact the legal team at Iamele & Iamele, LLP to understand your medical malpractice claim options. Our Baltimore medical malpractice lawyers successfully secure compensation for individuals coping with injuries and large healthcare expenses. Contact us today for a free initial consultation.
https://www.iamelelawfirmbaltimore.com/strategies-insurance-companies-use-to-avoid-paying-personal-injury-claims/