Compensation for a Disc Injury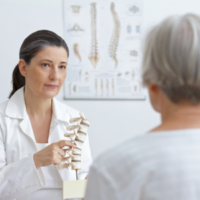 Many back and neck injuries are possible when an individual is involved in a car accident. While many people first think of spinal strains and sprains, herniated disc injuries are also possible. Sometimes disks heal in a couple of weeks, others suffer from long lasting pain.
If you are recovering from a car accident in which you sustained a herniated disc, a skilled Baltimore car accident lawyer can assess your situation and inform you on what level of compensation is possible.
Symptoms of a Ruptured or Herniated Disc
Made up of over 20 individual bones called vertebrae, your spine has discs that provide a cushion between the vertebrae in order for your back to move and bend. If these discs are damaged, it is possible you will be diagnosed with a herniated disc or a ruptured disc.
Disk damage is possible at multiple points of the spine, but the most common area for disk damage is the lower area of an individual's spine. This can result in lower body pain, including back pain and leg pain. But there are car crash victims who cope with disk damage in their necks as well.
Burning or sharp pain. When disk damage occurs, pain is possible. If the injury is within your lower back, pain is possible in a victim's buttocks, feet, and legs. Arm and shoulder pain could occur if the damage is in the neck area. The pain could be prompted by motion, sneezing, or coughing.
Nerve damage. If a disk injury impacts nerves, it is possible a victim will feel numbness or tingling in their extremities.
When there is disk damage and nerve damage, a person may feel weak and be unable to grasp objects or walk without stumbling.
It is important a person involved in a car accident has their health assessed by a medical professional. Any feeling of weakness or experience of pains or numbness should not be ignored. Having an accurate record of your health issues connected with a car wreck is an essential part of a strong personal injury claim.
Healing Times Vary
How long it takes for a herniated or slipped disk to heal depends on the situation. Some find they are able to recover at home with a bit of time to rest. Others have damage that requires medical interventions, surgery may be needed.
Financial compensation could be a possibility if you were injured because of another's negligence. An insurance company may offer you an amount that is far lower than what you need to cover all of your expenses, including hospital bills, lost wages, and physical therapy fees. A Baltimore car accident lawyer can help.
Are you coping with a slipped disc injury following a car accident in Baltimore or the DC area? If you have high medical expenses, connect with a skilled attorney who can navigate complex claims. Reach out to the legal team at Iamele & Iamele, LLP. With years of personal injury claim knowledge, our attorneys can help. Contact us today for a free initial consultation.
https://www.iamelelawfirmbaltimore.com/how-much-damage-totals-a-car-in-baltimore/