Rear Car Accident Injuries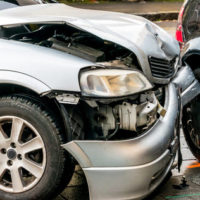 Car and truck accidents happen, and the results from accidents vary from a slight fender bender to a crash resulting in severe injuries. This is true of rear car crashes as well. Many feel the impacts of a rear car accident for years after the incident. Our Baltimore car accident lawyers can help.
Back and Neck Injuries from Rear Impact Accidents
When an individual's head is moved backward and forward, forcefully and quickly, whiplash injuries can occur. These neck injuries include harm to the spine, ligaments, muscles, tissues and nerves. Rear end accidents often produce whiplash injuries, which can mean months of physical therapy and days lost from work.
The back is vulnerable to injuries as well, including lower and upper back muscles. Thee injuries can be extremely slow to heal resulting in long recovery periods. Physicians may even recommend back surgeries. In severe cases, there is paralysis, either temporary or permanent, due to a spinal cord injury.
Concussions and Seat Belt Injuries
After an accident, healthcare providers will be watching for concussion symptoms if there was head trauma. Long-term effects of concussions are not typical but they can occur and result in memory problems, depression, and sleep issues.
Some of the symptoms of concussions include the following:
Blurred vision
Dizziness and feelings of confusion
Sensitivity to light
Headaches
Nausea and vomiting
Fatigue
There are also instances where bruises, cuts, and lacerations happen during an accident in relation to the seatbelt of lap belt worn at the time of impact. Seatbelts and safety features in vehicles are important and save many lives every year, but there are times when injuries result.
Rear-End Accidents and Fractures
Bones can break and fracture when there is a rear-end collision. Sometimes, it is because of an airbag. That impact can create broken bones and fractures of the hands, arms, and face of the driver. On the vehicle's passenger side, dashboard impact can cause leg and knee injuries.
Depending on the extent of the fracture, healing time frames vary. For some, only a few doctor's appointments are necessary before they are back to work. Other victims find themselves in long healing periods that can include pain, pricey hospital bills, and surgeries.
Have you been in a rear-end vehicle accident? If you or a loved one have been in an accident, you need to talk to a contact a car accident lawyer right away. It is essential that you understand your rights, whether you were rear-ended by a driver or if you were the driver who was at-fault.
In Maryland, you have three years to find a claim. Less time if your car accident claim is against the government. The timeline starts from the date of the accident. Talk to an experienced car accident attorney if you are considering a lawsuit, there is no time to delay.
The legal team at Iamele & Iamele, LLP is available to discuss your rear-end car accident. Our attorneys successfully secure compensation for accident victims in the Baltimore-Washington Metropolitan area and are experienced in vehicle cases. Contact us today for a free initial consultation.
https://www.iamelelawfirmbaltimore.com/what-are-the-reporting-requirements-for-maryland-car-accidents-2/