Car Accidents and Pregnancy Risks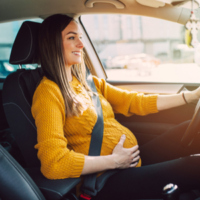 Car collisions are upsetting for anyone, but when there is a woman in the car who is expecting, she may fear for herself and her unborn child. There are a variety of injuries that are possible when car accidents occur. For a pregnant woman, this could include both injuries to herself and her unborn baby.
After a car crash, it is essential pregnant women have their health assessed by a medical professional. Then, a Baltimore car accident lawyer can negotiate with insurance companies for you if there are expenses to pay as a result of the accident.
Types of Injuries to Pregnant Women and Unborn Babies
There is the possibility of uterine injuries during a car accident, essentially when a woman's uterus tears or is ruptured. This is a very serious injury and can lead to internal bleeding. The situation is life threatening, both to the mother and her unborn child.
In other situations, car accident victims experience a placental abruption, when the placenta detaches. This can mean contractions begin abruptly and the oxygen supply to the baby could be disrupted. When an unborn baby is not receiving the proper amount of oxygen, there can be lasting conditions, including tissue damage and brain injuries.
Uterine injuries and placental abruptions are dangers for the mother and the child, but there are risks to solely the unborn child as well. With so much force occurring during a car accident, the impact can lead to injuries to the baby and possibility a miscarriage when then harm is catastrophic.
Signs of Injury in Pregnant Women
A pregnant woman should not wait to experience symptoms to go see a doctor following a car accident. She, and anyone else involved in the event, should see a healthcare provider as soon as possible to have their health assessed. That said, there are signs a pregnant woman needs to seek medical attention immediately.
There has been a change in the baby's movements.
Urinating has become more frequent, urgent, or painful.
You lost consciousness or are experiencing intense headaches.
Experiencing chills, fever, or generally feeling unwell.
Prompt medical care is essential for pregnant women. If there is an issue, it may be possible a medical intervention will help to keep the pregnancy viable.
There is a long list of items that could be included in a damage recovery settlement for a pregnant woman involved in an auto accident. A Baltimore car accident lawyer can navigate the complexities of the claims process and secure compensation for income loss, medical bills, emotional distress, and premature delivery and birth injury expenses. An experienced lawyer will secure the medical expert assessments, evidentiary documents, and testimony needed to strengthen your claim.
Did a car crash result in injuries to your unborn child? If you have high medical expenses, connect with a skilled attorney who can navigate complex claims. Reach out to the legal team at Iamele & Iamele, LLP. With years of personal injury claim knowledge, our attorneys can help. Contact us today for a free initial consultation.
https://www.iamelelawfirmbaltimore.com/psychological-issues-following-a-collision/