Psychological Issues Following a Collision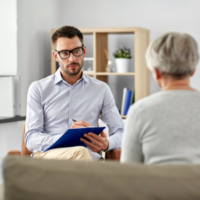 Serious car accidents can result in physical injuries and property damage. But too often people do not care for mental health issues that can also arise. When a person is experiencing psychological issues such as post-traumatic stress disorder (PTSD), depression, and anxiety, it can have a negative influence on their relationships, their professional life, and more.
If you were in a Baltimore car accident and are now suffering from emotional distress, help is available. Talk to a healthcare provider as soon as possible to put a treatment plan in place. The cost of your mental health care visits and any medication could be part of your damage recovery settlement. A Baltimore car accident lawyer can fight for a full and fair compensation amount.
Some Accident Victims Suffer from Anxiety and Depression
It is common for individuals involved in serious accidents to experience anxiety. Sometimes the anxiety is moderate for a few weeks, in other instances it is severe and can persist for months. Busy people might confuse anxiety for stress, but the important thing is to talk to a healthcare professional about any emotional distress you are experiencing.
When there is a physical injury as a result of a collision, some find themselves depressed because they are in pain or are unable to do the activities they enjoyed prior to the injurious event. If the injury was major, the individual may even lose their ability to earn an income which can prompt depression. Symptoms of depression include the following.
Feelings of guilt or worthlessness
Inability to enjoy hobbies and activities
Lack of focus and feeling fatigued
Period of weight loss or gain
Experiencing bouts of irritability and anger
PTSD and Acute Stress Disorder
PTSD can be experienced in different ways, but some symptoms experienced by car accident victims including avoiding the area or people who remind you of the accident, having flashbacks or troublesome thoughts, overall emotional discomfort and difficulty concentrating.
Recovery timelines vary. If you experience PTSD symptoms for less than a month, for example, you could be diagnosed with Acute Stress Disorder (ASD). Speaking with a qualified healthcare professional about all of your mental health issues is essential as PTSD and ASD can lead to loneliness and depression. There are ways to cope with anger management concerns and distressing thoughts.
Seeking help is part of recovery, you should not have to worry about the bills connected to mental health care. It is possible these costs will be part of your damage recovery. A Baltimore car accident lawyer can assess your situation and let you know what amount of financial recovery is possible. If another was negligent, an amount that includes property damage, medical fees, and mental health support is likely.
Are you in counseling to cope with the psychological effects of a Baltimore car collision? If you have high medical expenses, connect with a skilled attorney who can navigate complex claims. Reach out to the legal team at Iamele & Iamele, LLP. With years of personal injury claim knowledge, our attorneys can help. Contact us today for a free initial consultation.
https://www.iamelelawfirmbaltimore.com/prescription-medications-can-lead-to-a-dui/