Car Accidents and Baltimore Rideshares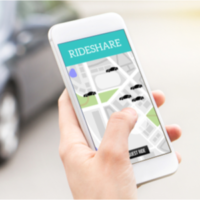 There are many who use ridesharing apps such as Lyft and Uber to get around Baltimore and the DC area. These app-based car alternatives are a nice option when you do not want to drive yourself or you do not have a car. Others use them when they do not feel like riding a bike or taking public transportation.
In any type of vehicle, accidents are possible. If you were a passenger in an Uber that was involved in an accident or if you were driving a personal vehicle and were in a crash with a Lyft, talk to a Baltimore car accident lawyer.
What to Do After an Accident
If there was an accident while you were a passenger in a ride sharing vehicle, it is possible you will incur medical expenses or suffer from ongoing pain. It is important you take steps to protect your best interests moving forward.
After an accident, gather all of the following information if possible:
Name of the Lyft or Uber driver.
Contact information for the driver and others involved in the accident.
Collect personal insurance information.
Record the vehicle make, model, and license plates of all vehicles involved.
Witnesses names and contact information.
Take photos of any injuries and property damage.
There could be multiple insurance companies involved after an Uber or Lyft accident. Having as much information as possible can help to make a complex process smoother.
It is not always certain what will happen after a Lyft or Uber accident. After all, the industry is still relatively new. There are times when the driver is responsible for damages. In other instances, the company is negligent. If you are injured in an accident involving a rideshare driver, it is important you have a Baltimore car accident lawyer advocating for you.
Different Levels of Insurance
There is a minimum level of insurance that is a requirement under Maryland law. The thing that is unclear about Uber and Lyft drivers is their use of a vehicle for both business and personal use. For example, if a Lyft driver is not driving for work, such as not currently having a customer in their vehicle, an accident would likely be covered by their personal auto coverage. But if they are actively working, such as transporting a rider or waiting for a passenger, the rideshare insurance may be in effect.
Accidents can happen at any time, and may be more likely for some rideshare drivers as they could be navigating unfamiliar roads. When they are not anticipating a one-way street, for example, they may become confused, drive erratically, and cause a collision. And when accidents happen, injuries are possible.
Were you injured when you were riding in a Lyft that crashed? Or did an Uber run into your vehicle? If you have high medical expenses, connect with a skilled attorney who can navigate complex claims. Reach out to the legal team at Iamele & Iamele, LLP. With years of personal injury claim knowledge, our attorneys can help. Contact us today for a free initial consultation.
https://www.iamelelawfirmbaltimore.com/what-are-the-three-types-of-distracted-driving/