Speeding Vehicles Cause Collisions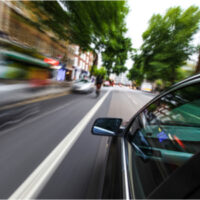 Individuals drive over the posted speed limit every day. The reasons for speeding vary, for some it is a force of habit while others are rushing to an appointment or running late for work. Whatever the reason, drivers should not speed because speeding increases the likelihood of car accidents and injuries.
Speeding is a common cause of accidents because it is easier to lose control and harder to respond to dangers when driving fast. If you were in a speed-related car accident in Baltimore or Washington DC, talk to a Baltimore car accident lawyer. An experienced attorney has the knowledge to explore what paths to compensation are possible.
Reasons Why Drivers Should Not Speed
Many drivers disrespect traffic laws, including driving over posted speed limits. There was even a study in which approximately a third of the drivers admitted they regularly drive at least 10 mph faster than other vehicles on the road. One of the ways speeding drivers justify their behavior is to only associate speeding with a traffic ticket. In truth, there is a wide range of speeding dangers.
Speeding drivers are more likely to lose control of the car.
There is an increase in fuel use with high speeds.
A longer stopping distance is required if there is an unexpected danger.
The safety features of a car may be less effective when a driver is speeding.
Physical injuries and property damage can be major should a speed-related collision occur.
It is important to remember there are reasons speed limits are set at certain speeds. To determine the proper speed for a road or highway, experts assess what stopping times may be needed, the type of traffic that will be using the roadway, and how the speed limit fits into local ordinances and laws.
After a Speed-Related Accident, Talk to a Lawyer
When a person is injured, there can be a lot of expenses. Hospital stays and tests can be extremely high. Plus, victims may need to take time off of work to heal. If you are coping with pain, lost wages, and medical bills, it is important you seek compensation. Motorists should behave responsibly. When they don't, there are paths to justice.
After an injury in a speed-related accident, seek medical treatment and discuss your situation with a Baltimore car accident lawyer. It may be possible to negotiate a high settlement amount with an insurance company or move forward with a lawsuit. In order to prove another driver's speeding was the cause of the collision, your lawyer will gather evidence and witness testimony as needed.
Did you sustain injuries in a Baltimore car accident due to speeding vehicles? Let our attorneys work toward a fair settlement for you and your family. Do not be deterred by the suggestion of a reduced or denied claim. You have rights. Healing from car accidents is difficult, let us take care of the legalities. Reach out to the legal team at Iamele & Iamele, LLP to understand your options. Contact us today for a free initial consultation.