Age-Related Vision Issues And Accidents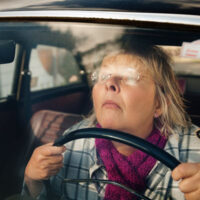 Older drivers often experience age-related vision issues. Many of them can be treated in order to restore an individual's vision, but sometimes people are not even aware their vision is declining. Cataracts, for example, develop slowly over time. Because of this, if a person is not regularly seeing an eye doctor they may not know a vision problem exists.
Vision issues and night vision problems can be a severe road hazard. Accidents are possible when a motorist is unable to see clearly. If you were in an accident caused by a driver who was unable to see in a low-light condition or was experiencing vision issues, discuss a path to damage recovery with a Baltimore personal injury lawyer.
Aging and Night Driving Concerns
Some older adults notice that driving at night has become more difficult and choose to do all of their driving during the daytime hours. While this is a safe choice, there are also plenty of drivers who ignore age-related vision issues and drive whenever they please, day or night.
But night vision can be problematic for older drivers for the following reasons:
Dilation and shrinkage for pupils changes over time, meaning an older driver's eyes often receive less light than the eyes of a younger driver, making it more difficult to see and assess road risks.
Age-related conditions such as cataracts and glaucoma can impact low-light and night vision.
Glare can be an issue when an older adult's eye becomes less clear. Also, it can be more difficult for an aging eye to recognize brightness and contrast shifts.
To be as safe as possible on Maryland roadways, drivers should have their eyes examined regularly so any vision issues can be recognized before they become problematic. And if you have noticed it is more difficult for you to see in low-light driving conditions, choose to drive only during the daytime hours until you are able to see a professional to have your vision concerns addressed.
 Tips to Driving Safely at Night
In addition to having your eyes checked consistently and following the recommendations of medical professionals, Maryland drivers can keep their headlights clean and ensure they are aimed properly. Dimming dashboard controls when driving at night and opting to travel at lower speeds when it is dark can also be helpful in avoiding accidents.
After a vision-related crash, connect with a Baltimore personal injury lawyer to discuss next steps. If another person did not take the necessary precautions to correct their vision, they could be held liable.
Have you received accident bills because another driver had age-related vision issues and struck your vehicle? The experienced legal team at Iamele & Iamele, LLP in Baltimore, Maryland will work to be sure you receive a full and fair settlement package. Without knowing the true value of your claim, you could accept a settlement amount that is too low. Distracted drivers and vehicular operators with poor vision cause accidents, and when they do, a skilled personal injury attorney can help you understand what settlement options are available. Contact us today for a free consultation.