A Main Contributor to Boat Accidents is Alcohol Use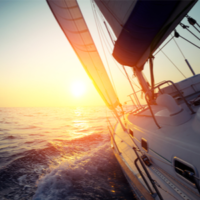 On a beautiful day, many choose to enjoy the waters of the Baltimore area. Fun and relaxing days are often enjoyed on boats, but there are risks as well. Boating accidents can lead to injuries and fatalities. Alcohol use on a boat increases the possibility of harm.
No boat operator should consume alcohol. Intoxicated operators are a danger when operating all vessels, from yachts to canoes. When a person is drunk or under the influence of drugs they are less attuned to dangers and may relax safety measures and take more risks due to lower inhibitions. Unfortunately, maritime injuries are a reality. If you were involved in a boating accident because of an intoxicated individual, talk to a Baltimore personal injury lawyer about compensation.
Assessing Liability After a Boat or Maritime Accident
Liability is a legal term that is connected to determining if one or more individuals or parties were negligent. If a person or party is liable, they could be responsible for expenses connected to a maritime accident. Because boat operators have a duty of care, they need to operate their vessel in a safe, reasonable manner. Drinking while operating a boat is not safe, it is a known risk that can lead to fatalities and injuries.
Other contributing factors to boat accidents including the following.
No safety equipment on board the boat, or not enough safety equipment
There was reckless behavior, such as turning into an oncoming wave
Weather conditions were dangerous and should have cancelled the excursion
While the majority of boat accidents involve vessels that are privately owned, there are times when rental boats or charter companies are involved in personal injury claims. If a waiver was signed, a lawyer will look over the document to be sure all the language was clear. If the language is vague or muddled, a settlement could be possible.
In order to determine if legal action is possible in your situation, connect with a legal professional. There are many details that need to be assessed before the strength and value of claim can be determined.
Talk to a Maryland Lawyer About Pursuing Damages
Similar to Maryland car wrecks, boating accidents in Baltimore and DC can result in high medical expenses, lost income, and pain and suffering. If it is determined another was liable, there could be a path to securing damage recovery. The amount of the settlement will depend on the details of the claim. A claim can be strengthened when you have a Baltimore personal injury lawyer. An experienced attorney who can answer all your questions and pursue for a full, fair settlement amount.
Were you or a loved one injured in the Baltimore or DC area? If you have high medical expenses, connect with a skilled attorney who can navigate complex claims. Have an experienced attorney work for you. Reach out to the legal team at Iamele & Iamele, LLP. With years of personal injury claim knowledge, our attorneys can help. Contact us today for a free initial consultation.
https://www.iamelelawfirmbaltimore.com/should-my-friend-in-baltimore-fix-my-car-instead-of-filing-a-claim/