18-Wheeler Crash Claims Require Lawyers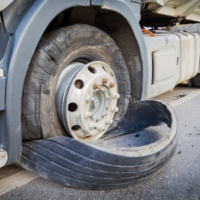 There are a lot of injuries and property damage that is possible when a large 18-wheel truck is involved in a collision. When passenger cars collide there can be injuries, but there are also times when people walk away from the event without a scratch. The insurance claim could be only a minor inconvenience. But the size or 18-wheel trucks can result in major devastation.
After a truck accident in Maryland, you need a Baltimore car accident lawyer to help you navigate the complexities of the situation. There is even the possibility that multiple lawsuits and claims will be necessary to resolve the issue and secure the level of compensation you need to move forward.
Causes of Accidents and Insurance Companies
Families can be devastated when they are involved in an accident with an 18-wheeler. Extremely large expenses can follow as injuries can be life long. It is important to note that there are many reasons why large trucks can be in accidents and companies along with individuals could be negligent.
Part malfunction. When a truck is not painted properly, accidents can follow and a trucking company could be liable. Worn tires can explode and the layers of rubber can spin out and cause accidents, for example. There are also times when the truck part manufacturer is to blame for providing a faulty part..
Cargo loaded improperly. If a trucking company hires another company to load a truck and they overload a truck or did not distribute the weight of the cargo correctly, accidents and rollovers are possible.
Bad hiring practices. Trucking companies have to be careful when hiring drivers. Operators with a history of dangerous driving or traffic violations should not be hired. If they are and an accident occurs, this could be pointed to as the trucking company creating a risk.
Because there are a lot of different people and companies involved, there may be multiple claims and lawsuits. A lawyer can assess the evidence and strategize a path to a successful settlement.
Let a Lawyer Talk for You
There is the possibility that you will receive phone calls from insurance adjusters after a truck collision. They may ask about the details of the crash and have leading questions that could be an attempt to have you admit fault. When you have a lawyer on your side, you can tell the insurance contacts to speak to your attorney. Do not participate in conversations where you feel pressured to say something you do not believe or accept a settlement offer that is too low.
Semi accidents are serious. It is important you protect yourself. A Baltimore car accident lawyer can focus on the legalities for you.
Did you sustain injuries in an 18-wheeler truck crash? If you have high medical expenses, connect with a skilled attorney who can navigate complex claims. Reach out to the legal team at Iamele & Iamele, LLP. With years of personal injury claim knowledge, our attorneys can help. Contact us today for a free initial consultation.
https://www.iamelelawfirmbaltimore.com/car-accidents-and-baltimore-rideshares/