Your MD Work Injury And What To Do Next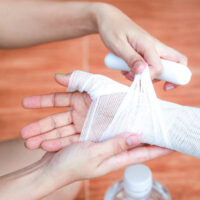 While people should feel generally safe in their homes and workplaces, the reality is no situation is completely free of the possibility of an accident or injury. It is essential that employers do what they can to rescue illness and injury risks, but sometimes employees sustain broken bones, sprains, and other medical concerns while performing work-related duties. Often workers' compensation options are enough to make an injured party whole but other circumstances call for personal injury legal action.
Certain industries are more prone to work-related accidents. Many injuries are connected to construction, manufacturing, and industrial positions, for instance. But regardless of the industry, Maryland workers have rights. If you need assistance connecting with financial recovery after a work accident or occupational disease diagnosis, share the facts of your case with a Baltimore personal injury lawyer.
Employer Referred Physicians
Depending on the workers' compensation policy of your employer, you may need to connect with a physician who is in their insurance policy network. If you are unhappy with the care you receive, seeking a second opinion could be an option but talking to an attorney is also advised. You want to be sure the next doctor gives a clear diagnosis and treatment plan, without any suggestion that you are leading them to dispute the original physician's diagnosis.
Just as a wide range of injuries are possible when navigating daily life, any and all of the following injuries have been sustained while working at a Maryland job.
Bone fractures
Injuries to brain and head
Occupational exposure and disease
Burns, cuts, and lacerations
Loss of hearing or vision
Harm to neck, back, or spine
Obtaining financial recovery after a Maryland work injury relies on timely reporting. Be sure to inform your supervisor of the injury or illness and follow all of the official steps required, including having your health assessed by a licensed healthcare provider and following their treatment plan to the letter.
Lawyers Have Secured Compensation After a Range of Injuries
A Baltimore personal injury lawyer can inform you of your rights, whether you were injured in Baltimore or elsewhere in the state of Maryland. With experience in state insurance laws, a legal team can evaluate your case and share with you the most favorable solution for you and your family. The physical healing and emotional frustration of an injury or illness can take a toll on individuals and their families. Allow an attorney to help you through your financial worries and uncertainties.
Do you need a lawyer to help you determine how to access the recovery you need following a Maryland work injury? Some situations involve workers' compensation, but others involve personal injury settlements. Work-related illnesses and injuries can lead to long recoveries. If you were hurt at your Baltimore-Washington Metropolitan area place of employment, contact the legal team at Iamele & Iamele, LLP. Our attorneys are familiar with the facts of your case, they will strategize a path to a successful resolution. Schedule your free initial consultation today. Contact us to book your initial appointment.