Wrongful Death Action Filed Against Maryland Transportation Authority Police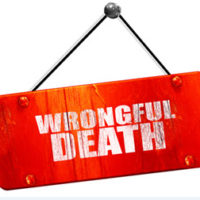 The Maryland Transportation Authority (MdTA) police face a wrongful death lawsuit in Baltimore City Circuit Court after a high-speed chase left two people dead and four injured, according to an article by The Baltimore Sun. The surviving family members of one woman are seeking $75,000 in damages, arguing negligence on the part of the MdTA and other parties.
This deadly car accident began when MdTA police officers attempted to execute a traffic stop near the 6500 block of Eastern Avenue. Instead of yielding to police, the driver took off. In an effort to shake the MdTA officers, the driver increased his speed and began weaving in an out of traffic. Reports indicate that the driver reached 100 miles per hour during the 15-mile pursuit.
The driver was rocketing north on Interstate 95 when he began to lose control, not far from New Forge Road in Baltimore County. After crossing over the lane divider, the driver smashed into another car, causing two deaths and four injuries.
As a result of his actions, authorities charged the driver with negligent manslaughter. After pleading guilty to both counts, the driver received a prison sentence of 18 years and probation for two years.
After the dust settled on the criminal case, the surviving family members of a woman killed in the crash decided to file a lawsuit for wrongful death, negligence and gross negligence. The lawsuit names the MdTA, four MdTA police officers, the Maryland State Transportation Department and the driver as defendants.
To facilitate the wrongful death lawsuit, the surviving family members hired an attorney for legal assistance. The attorney reviewed video footage from the dashboard cameras of the MdTA police officers involved in the chase. At certain points, the MdTA police officers appeared to reach speeds of 130 miles per hour. And yet the driver continued to separate from the pursuit.
Given the facts of the situation, the surviving family members argue that the MdTA police officers should have backed off of their pursuit. By continuing to chase the driver, the surviving family members argue that the MdTA officers acted in a reckless manner that put other people in danger. Consequently, the surviving family members are seeking damages to compensate for the death of their loved one.
Let Us Help You Today
If you are reeling from the wrongful death of a loved one, contact the Maryland attorneys at Iamele & Iamele, LLP right away. We are eager to assist you throughout each step of your case.
Resource:
baltimoresun.com/news/maryland/crime/bs-md-mdta-lawsuit-20170711-story.html