Workers' Compensation For Leg Injuries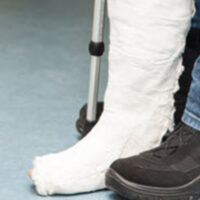 When you sustain a leg injury it can impact your ability to live the daily life you have become accustomed to, and you may not be able to work. After all, many jobs require a person to spend time on their feet or walking from location to location. If your leg was injured at work, a workers' compensation claim may be possible.
The value of a workers' comp claim due to a leg injury will depend on a variety of factors. For example, it is common for leg injuries to happen alongside injuries to other areas of the body. You could be healing from an ankle and leg injury or a leg and back injury, which will impact a settlement amount.
If you are recovering from a leg injury sustained at your workplace, you could be compensated for your leg injury through a workers' comp claim. A Baltimore workers' compensation lawyer knows how to navigate the many details of filing a claim.
Types of Leg Injuries
There are a variety of leg injuries that can happen at work, some are due to sudden accidents, such as a person slipping on wet floor, while others are injuries due to repetitive motions, including prolong lifting of large objects.
Claim amounts for workers' comp claims depend on the details of the individual case. The severity and level of medical care will be assessed along with the wage of the individual. Whether you have a severe leg injury, such as a fractured bone or torn ligament, or there was lesser harm, such as a sprain, a claim could be possible. It is important to understand what options are available to you. Missing work can lead to unpaid bills, which can be even more uncomfortable when medical expenses and physical therapy charges begin piling up.
Leg is the word typically used for the area above your ankle and up to and including your hip. So, a hip injury and a knee injury could be part of a leg claim, but if there was harm to your ankle, that could be a foot injury claim. These distinctions are important, because the claim values are different. Often leg injuries carry a higher compensation value that foot injuries, for instance. Tens of thousands to hundred of thousands of dollars have been awarded through workers' comp claims. Of course, high value claims are typically connected to catastrophic injuries.
Connect with a Maryland Workers' Compensation Attorney
If you were injured on the job, connect with a Baltimore workers' compensation lawyer to protect your individual rights. Even if you have started the process, talking to an experienced legal professional can help you to understand your options. If there could be a path that would benefit you that you haven't explored yet, your lawyer will let you know.
Was your leg injured when you were at work in Baltimore or DC? Contact the attorneys at Iamele & Iamele, LLP to understand your rights. We work to recover financial damages for our clients. Contact us today for a free initial consultation about your workers' compensation benefits claim and your rights as an employee.