Workers' Compensation Cases And Filing Fees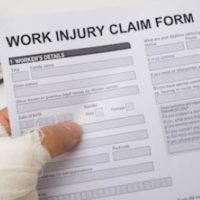 If you are considering moving forward with a workers' compensation case, it is important to know how the process will proceed. While you may understand that a lawyer will be paid after a case is won, it is still important to note that there may be fees that are paid out before a case is finalized and settled.
Discuss your situation with a Baltimore workers' compensation lawyer to understand the best path forward. There are many details to consider when filing an insurance claim or going to court.
Filing Fees and Compensation Statements
When you begin working with your attorney, ask how filing fees will be handled. In some instances, your attorney will pay the fees and then they will be deduced from your compensation once your case is settled. It is important to have these conversations in the beginning of a working relationship, otherwise you may be surprised when you see the fees and costs listed on your final compensation statement.
Of course, every situation is unique. Some individuals file an initial claim that is free and assume any following filings will also be free of charge. But if your initial free filing requires an appeal and you begin working with a lawyer, the paperwork moving forward will be different than the documents originally filed. Appealing could even require a payment in order to get records certified. If there are liens, those could come up as well.
Plus, there are times when documents are needed to secure your claim or case. For example, if you need access to medical records in order to prove a preexisting health condition or injury, There can be fees and charges connected to accessing these documents.
Legal Help is Available for Your Workers' Compensation Case
Workers' compensation claims can be complex and challenging. After all, you could be facing large insurance companies and strong, experienced legal teams who are focused on proving you wrong and denying or reducing your settlement amount.
You have a right to protections under the workers' compensation system. It was designed to help workers who were injured in a work-related accident, such as an injury because of a work accident, an equipment failure, or a slip or fall on the job. Claims and cases can include medical care, earning capacity and quality of life.
When you connect with a Baltimore workers' compensation lawyer, it can make a difference in the final outcome of your experience. At the beginning of the appeals process, have a skilled lawyer walk you through the process. With an experienced legal professional by your side, you will learn what to expect and what fees and expenses may arise. Then, you will understand what is needed in order to secure a full and fair settlement.
Do you have questions about your workers' comp claim in connection to an injury sustained in the Baltimore or DC area? Contact the attorneys at Iamele & Iamele, LLP to understand your rights. We work to recover financial damages for our clients. Contact us today for a free initial consultation about your workers' compensation benefits claim and your rights as an employee.