Workers' Comp, Rehabilitation Expenses, And Who Pays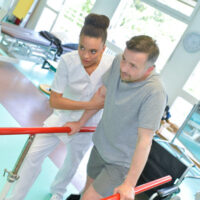 Has your Baltimore employer suggested that you pay for your own workers' compensation insurance? If so, they are making an illegal request. Insurance coverage for workers' compensation is always covered by the employer not by the employee. It is illegal to ask an employee to foot the bill for workers' comp coverage. This includes silently deducting the expense of the coverage from your paycheck.
Workers' comp protections are in place for employees who are injured or become ill as a result of their job or job duties. Insurance coverage is necessary as expenses for medical care and lost income can be high. If you have questions about your employee rights in Baltimore or elsewhere in the DC area, talk to an experienced Baltimore workers' compensation lawyer.
Medical Care, Physical Therapy, and Vocational Guidance
There are a variety of needs when a person is ill or injured on the job. In some situations, coverage for medical expenses is all that is needed in order for a person to heal and return to the life they enjoyed prior to the illness or injury.
But not all situations only require medical expenses, there are plenty of situations in which rehabilitation fees are required. Then, an experienced team will review the situation. Likely there will be physical therapists, occupational therapists, and case managers on the team to determine what is needed for quality care through evaluations and assessments. What could be required could include one or more of the following:
Physical therapy appointments. Conditioning and recovery exercises may be required for months or years.
Vocational guidance. Professionals to help a person develop a plan of when or if an injured individual can return to work.
Future placement needs. If a person is unable to return to their job, support for finding a new career and income.
Talk to a Lawyer When a Claim is Disputed or Denied
There are situations in which a claim can be legally denied, if the injury happened outside of work or if the employee was behaving in an illegal and reckless way, for example. Some disputes are settled through the board of the insurance company. When that is not possible, the claim could go to court. When court is needed, a judge will look over all of the documentation and determine if compensation is due or not and why.
Disputed claims create stress and worry for families who are already struggling with illness and injuries. If your employer or their insurance company is pushing back against your need for workers' comp coverage, either because they believe the harm is not work related or because they claim you are not eligible for compensation, talk to a Baltimore workers' compensation lawyer.
Were you hurt at your Baltimore workplace and are now involved in a complex dispute? Contact the attorneys at Iamele & Iamele, LLP to understand your rights. We work to recover financial damages for our clients. Contact us today for a free initial consultation about your workers' compensation benefits claim and your rights as an employee.