Who's Liable For A Maryland Gas Station Injury?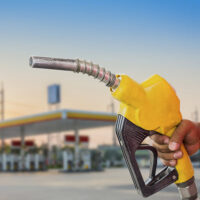 The state of Maryland has thousands of gas stations. Some only sell gas, others provide additional services. Service stations may fix vehicles as well as sell gasoline, and many gas stations also have a convenience store component. One convenience store may only sell fast snacks while another has a full hot meal bar and oodles of toiletries and souvenirs. With so many different types of stores and services, it is no surprise that there are a variety of gas station injuries that are possible.
If you slipped on a spilled fluid in a gas station bathroom or were robbed because the station did not have an adequate level of security, compensation for medical expenses, lost wages, and emotional distress may be possible. A skilled Baltimore personal injury lawyer can help.
Negligent Security, Defective Equipment, Slips and Falls
Maryland gas station owners and operators have a responsibility to provide an environment that is reasonably safe. If there are overt hazards and a person is injured, they will likely be held responsible for the expenses and emotional distress experienced as a result of the harm.
Examples of gas station injuries:
Trips and falls. A person can be hurt if they slip on a liquid spill or fall over cracks in flooring or pavement.
Negligent security. Precautions need to be in place to help alleviate the risk of a robbery or assault.
Skin injuries and burns. If equipment is malfunctioning, there can be skin harm from pumps and hoses.
Car accidents. Because there are a lot of vehicles present, multi-car crashes and other wrecks have occurred on gas station property.
Whatever injury you have sustained, there could be a path to securing financial damage recovery. Share the details of your accident and injury with a personal injury lawyer. Then, the appropriate step forward can be strategized.
See a Doctor and Report the Accident
To be sure you heal properly with the correct treatment plan, connect with a healthcare professional after your gas station injury. It is also important to let the gas station know the injury occurred. Calling law enforcement is often the next step.
If there are visuals that could support your future claim, be sure to take pictures. For example, if you slipped and were injured because there was oil pooled on the floor, take a photo of the oil puddle and the area around it, to show there was no indicator of the danger. A Baltimore personal injury lawyer can help you gather the documentation you need, even if no photos were taken at the time.
Do you feel the gas station where you were injured did not provide a safe environment for you and other customers? If you were injured on a business property or were the victim of a crime in a building, contact an experienced lawyer to secure the compensation you deserve. The attorneys at Iamele & Iamele, LLP in Baltimore, Maryland, have the knowledge and skills you need to file your claim. If you need legal help, contact us today for a free initial consultation.