Who Is To Blame For Single-Vehicle Crashes?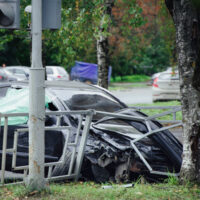 While people think of a Maryland car crash, they often imagine two vehicles colliding with one another. This is true for some accident victims, but there are also single-vehicle crashes, involving only one car or truck, and wrecks with multiple vehicles impacted. When single car crashes occur, a driver may run off the road or collide with an obstruction, and although the driver is often to blame, there are situations where another party is liable.
There are a lot of legal issues that can arise after a Maryland crash. Liability can be in dispute after a single-vehicle crash or multi-car pileup. If you have been offered a low figure or have been denied compensation but believe you have a right to a larger settlement amount, talk to a Baltimore personal injury lawyer.
Drivers, Road Defects, and Unsafe Vehicles
While the driver of the vehicle could be responsible for a single-vehicle crash, they are not always the party at fault. There are reasons these types of crashes occur that reach far beyond the control a driver has on their vehicle.
Others on the road. Sometimes crashes occur because a driver is responding to reckless behavior of another driver. They may need to swerve out of the way, for example.
Road issues. When there are construction problems, extensive potholes, or broken guardrails, municipalities may be the ones liable. After all, the local government is responsible for maintaining roads and traffic signage.
Bad weather. Wet, icy, slippery conditions could lead to a car being involved in a single-car collision. In some cases, if there is a party that was tasked with clearing snow and ice, they may carry a level of responsibility for the crash if they did not clear the area in a prompt manner.
Defects in the vehicle itself. Manufacturer and product defects may have resulted in the vehicle itself being unsafe. If a car did not respond as reasonably expected, due to issues with brakes, tires, or another issue, a product liability claim could be possible.
While product liability cases and accessing local government funds is sometimes possible, these cases can be complicated. Attorneys who are experienced in securing full and fair compensation packages can walk you through your options and inform you of ways to strengthen your claim.
Bring Your Questions to a Maryland Attorney
If you are unsure who should be held liable and are worrying about medical expenses and property bills, take a proactive step forward and talk to a Baltimore personal injury lawyer.
Do you have a lot of expenses after a Maryland single-vehicle crash? The skilled attorneys at Iamele & Iamele, LLP can guide you through the damage recovery process whether you were hurt in a single-vehicle crash or an accident involving multiple Baltimore vehicles. After looking over all of the documentation you have, our legal team will determine if more evidence is needed to achieve the outcome you are hoping for. Contact us to get the damage recovery process started, schedule your free initial appointment today.