When Maryland Workers' Comp Insurance Claims Are Denied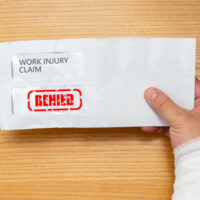 Employers in Maryland are required, by law, to carry workers' comp insurance. The compensation insurance is funded by the employer, it is not an expense to be carried by workers. The protections are in place to help workers in Maryland secure compensation for expenses in connection with workplace injuries.
Workers compensation laws can be complex. When you discuss the details of your injury with a Baltimore workers' compensation lawyer, you will get information about how much the value of your claim could be worth and what is the best way to move forward.
Reasons Why Claims are Denied
There are times when workers' comp claims are denied. For example, if your injury did not occur at work, a claim will be dismissed. In order to be eligible for comp benefits, you have to have been injured while performing a job duty. This means an injury that happens at a restaurant while you are on your lunch break will likely not be eligible, because although the injury happened during your workday, you were not working.
There are also specific steps that need to be taken. One of these is reporting your injury to your employer as soon as possible. Waiting too long can lead to a claim being dismissed or denied.
Also, in addition to reporting your injury in a timely fashion, you need to have your injury treated by an approved provider. Not receiving medical treatment can be an issue. If you do not receive medical care and later attempt to file a claim, it could be denied because you do not have the medical records necessary to support your claim.
A Lawyer Will File All Papers on Time
There are deadlines that need to be followed when filing insurance claims. Failure to file on time is providing your employer with another reason to deny your claim. When you work with an experienced Baltimore workers' compensation lawyer, you can rest assured that all time limits will be taken care of.
Plus, a legal professional can guide you through the process and be sure you are securing the recovery amount you are entitled to. An employer or their insurance company could suggest your injury was from a pre-existing injury, for instance, so they are not obligated to pay for compensation. But there are ways to push back, such as using witness accounts or footage from surveillance cameras that could prove the injury happened at work and while you were performing a work task.
A skilled attorney knows just what to do and say when a claim is denied or reduced. Employers and insurance companies have their own legal teams, you need a legal professional on your side.
Were you hurt at your job in Baltimore or DC and now find yourself fighting with your employer about a workers' comp claim? Contact the attorneys at Iamele & Iamele, LLP to understand your rights. We work to recover financial damages for our clients. Contact us today for a free initial consultation about your workers' compensation benefits claim and your rights as an employee.