What You Need To Know About Potholes And Car Accidents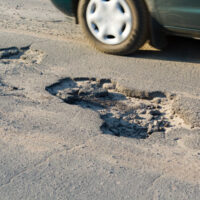 Potholes are a common sight on roads throughout Maryland, especially after a harsh winter. Unfortunately, they are not just a nuisance for drivers, but they can also be a major safety hazard. Potholes can cause serious damage to vehicles, and they can even contribute to traffic accidents.
To learn more about how you can seek compensation after you sustained an injury in a crash involving a Maryland pothole, talk to a Baltimore personal injury lawyer.
Ways Potholes Can Contribute to Vehicular Crashes
Because potholes are a serious safety hazard on Maryland roads, they can contribute to traffic accidents in a variety of ways.
Potholes can cause tire blowouts. Damage to tires, including punctures, tears, and blowouts, can cause a driver to lose control of their vehicle. Loss of control can result in drivers striking buildings, objects, or other vehicles.
Damage suspension systems. Potholes can also cause damage to a vehicle's suspension system, and when this happens it is possible to have steering or braking difficulties, escalating accident risks.
High-traffic areas and car accidents. When potholes are large or are located in a high-traffic area, drivers may attempt to swerve around the risk, leading to a collision with another vehicle, pedestrian, or object in the road.
Whatever situation has led to your car crash injury, it's important to seek medical attention without delay. Even if you feel fine after an accident involving a pothole, it's important to seek the advice of a healthcare professional as soon as possible. This is because some injuries, such as whiplash or concussions, may not show symptoms right away. Seeking medical attention also establishes a record of your injuries, which can be used to support your claim.
Document the Pothole
If possible, take photos or video of the pothole that caused the accident. This can help establish liability and prove that the pothole was the cause of the accident. This documentation, along with the record of you asking for timely care for accident injuries, could strengthen your personal injury case.
An experienced Baltimore personal injury lawyer will guide you through the legal process and help you recover damages for your injuries. Your lawyer can establish liability, gather evidence, negotiate with insurance companies, and may be able to hold the city or county responsible, if they should have fixed and maintained the road where the pothole was located. When fair settlements are not offered, legal action can be pursued.
Whether you saw the pothole before an accident or not, compensation could be possible. Sometimes it is impossible to see the hazard because it is full of water or obscured by debris. In other situations, accident victims are injured through secondary collisions, meaning another driver lost control because of a pothole and surrounding cars were involved in car crashes because of the initial driver's behaviors.
Is a pothole the reason you were hurt in a Baltimore collision? The legal team at Iamele & Iamele, LLP is available to review your case and share with you ways to achieve your desired outcome. Contact us to book your no-cost consultation.