What Kind Of Doctor Should I See After A Baltimore Accident?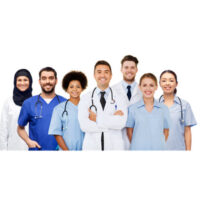 When an accident occurs and a person suffers severe injuries, it is clear they will need medical attention and ambulances are called to the scene. But if the collision was not major, an individual involved may not immediately realize they are injured. They could receive a diagnosis of car accident harm days or weeks after the event.
Because delayed onset injuries are often more common than people realize, seeing a doctor as soon as possible is in your best interests. After all, doing so will lead to an appropriate treatment plan and will establish causation, connecting the accident to the injuries. If you are curious of your damage recovery options after receiving an accident injury diagnosis following a Maryland crash, connect with a Baltimore personal injury lawyer.
Different Types of Doctors
As healthcare professionals can attest, there are a range of medical professionals an injured person could see following a crash. If an ambulance shows up at the accident site, an EMT will likely assess your injuries and possibly share a preliminary diagnosis with you. If required, they will transport you to a hospital for care.
If the EMT believes you can receive the treatment you need in another way, they may agree to let you be driven by a friend or family member to an urgent care facility or to your primary provider's office. Sometimes accident victims prefer this option as ambulance rides can be costly and may not be necessary if the injury is not serious.
When there is no emergency medical team at the accident scene, it is up to the individual to decide where to seek care. Many people go to their primary care physician in the days and weeks following an accident. These doctors are aware of your health history and can guide you to other doctors as needed. For example, you may need to see a specialist about specific harm as a primary care provider is typically focused on internal medicine.
Take the Advice of Those You Trust
Navigating a personal injury claim is not always simple. It is possible an insurance adjuster will recommend a certain doctor. Before booking an appointment on their recommendation, remember it is advantageous to the insurance company when a claim is denied or reduced. Instead, see medical professionals you already have a relationship with and trust. If you need ideas on who to see, discuss your injuries with a Baltimore personal injury lawyer who is working to secure you a full and fair damage recovery package.
Are you unsure if you are eligible for compensation because of when you consulted with a doctor about your accident injuries? If another's negligence led to your injury, you should not have to spend years juggling medical bills and accident expenses. Connect with the attorneys at Iamele & Iamele, LLP for legal advice, support, and guidance. With extensive personal injury experience, our lawyers are committed to our clients and will fight for the best possible outcome given the details of your case. Call 410-779-6160 to schedule a no-cost consultation.