What Is The Right Amount To Accept From An Insurance Adjuster?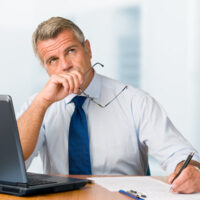 If you have accepted settlements in the past, say if you were in a minor wreck and the insurance company paid for repairs to your car, you may want to believe an insurance adjuster who contacts you after an accident injury is immediately offering you a full, fair settlement. But when an accident leads to medical fees, lost wages, and ongoing physical therapy appointments, negotiations can be more complicated.
Instead of agreeing to the first financial figure offered, seek the advice of experts who have worked on a variety of injury claims. After all, when an insurance adjuster looks over all of the documentation connected to your injury, they may be calculating the minimum amount they need to pay out and still follow the agreed upon terms of a policy.
Conversely, your Baltimore personal injury lawyer will be assessing the documentation and moving to strengthen your claim with additional evidence to be sure you are receiving an amount that makes you whole after an accident injury.
Elements that Determine a Claim's Worth
All of the documentation that is needed to understand the value of your claim will be looked over by the insurance claims adjusters and the attorneys working on the case. Some of the items that will be assessed include the following:
Medical bills
Hospital stay costs and testing expenses
Copays and prescription fees
Income loss
Emotional distress
Damages to personal property
While the documentation is the same, elements may be looked at through a different lens. For instance, an adjuster may want you to settle for the amount of your current medical bills but your attorney could seek damage recovery for current and future healthcare needs.
Tell the Insurance Companies, You're Going to Talk to Your Attorney
While it is part of an insurance adjuster's training to offer the lowest settlement amount they are able to while still staying within the terms of a policy agreement, lawyers are trained to negotiate terms that are more advantageous for their clients. If you feel an adjuster is pushing you to accept a claim, tell them you need to talk to your attorney. Then, let your lawyer push back on their low offers. An attorney who is familiar with the ins and outs of personal injury law will know the value of your claim.
You do not have to agree to a settlement you do not feel is fair. Instead, connect with a legal expert who can navigate with an insurance company on your behalf.
Did a phone call from an insurance claims adjuster leave you feeling uneasy? An adjuster may tell you that if you don't agree to their terms you will get nothing. In reality, when you work with a legal team such as the attorneys at Iamele & Iamele, LLP, you may be able to access far more than their original offer. Our seasoned legal team is committed to supporting you throughout the personal injury claim process, so we will keep you informed of each and every offer. To get started, book your free initial consultation. Contact us to schedule an appointment.