What is Restitution & How Does it Help Maryland Crime Victims?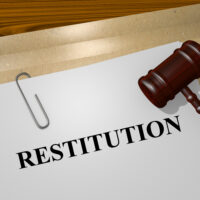 Restitution is a type of compensation payment available to certain crime victims in Maryland. When a victim suffers harm or injury due to another person's criminal or delinquent act, the Maryland courts may require restitution to compensate for the loss. Though Maryland law restricts restitution to specific eligible parties in limited circumstances.
Who is Eligible to Receive Restitution in Maryland?
Maryland Code of Criminal Procedure Section 11–606 outlines certain eligibility requirements for restitution. Specifically, restitution is available to:
Victims of criminal or delinquent acts;
Governmental units, including the Maryland Department of Health and the Criminal Injuries Compensation Board;
Insurance companies;
Third-party individuals who compensated a victim or paid expenses on the victim's behalf;
Any person who provided certain goods, property, or services to a victim; and
Other people who are authorized to receive restitution under Maryland law.
Under Section 11-606, victims have priority for restitution over other people, governmental units, and insurance companies. Though if a third party provides complete compensation for the victim's loss, then they receive priority for restitution from the criminal or delinquent actor.
When is Restitution Available in Maryland?
Maryland Code of Criminal Procedure Section 11–603 establishes the guidelines for the availability of restitution. Under this section, the Maryland courts may grant restitution in addition to other penalties at law, such as prison time or criminal fines.
That being said, the state courts may grant restitution if, as a direct result of a criminal or delinquent act, the victim:
Had property converted, damaged, destroyed, obtained unlawfully, or stolen;
Sustained burial, counseling, dental, funeral, hospital, or medical expenses;
Suffered direct out-of-pocket or earnings losses; or
Needed to pay rehabilitation expenses.
Additionally, Section 11-603 enables the state courts to award restitution if:
The Maryland Department of Health or another governmental unit paid certain expenses on the victim's behalf;
The Criminal Injuries Compensation Board awarded benefits to the victim; or
Any governmental unit paid expenses related to destroying, preserving, removing, selling, storing, towing, or transporting an abandoned vehicle.
Even if a Maryland court awards restitution, it does not prevent the victim or another eligible party from filing a civil lawsuit. If there is evidence of physical harm, mental injury, or lost wages, then civil damages may be appropriate. Though any judgement or damages awarded in a civil case will be reduced by the amount of restitution paid.
On a related note, Section 11-603 also highlights special considerations for minor children who commit acts of graffiti. In these circumstances, the Maryland courts may order community service, restitution, or both.
Let Us Help You Today
If you were the victim of a criminal or delinquent act in Maryland and want to request restitution, it can be thoroughly practical to speak with a dependable personal injury lawyer. The Baltimore crime victim lawyers at Iamele & Iamele, LLP have helped numerous crime victims in the pursuit of restitution and similar benefits. If you need legal help, contact us today for a free initial consultation.
https://www.iamelelawfirmbaltimore.com/what-is-the-difference-between-criminal-case-civil-lawsuit-for-maryland-crime-victims/