What Is Post-Traumatic Arthritis?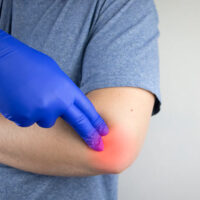 When people think of the onset of arthritis, they typically think of degenerative arthritis that develops with age. While this is one form of arthritis, there is another type that can occur as a result of an accident. Post-traumatic arthritis is when a person develops arthritis symptoms due to harm, such as a bone injury.
If you have been diagnosed with post-traumatic arthritis following a Maryland car crash or other event, talk to a Baltimore personal injury lawyer about the value of your claim. The amount you have been offered by an insurance adjuster to cover the initial injury may be far too low, particularly if you are now having to heal and cope with painful symptoms of arthritis as a direct result of the collision.
Loss of Cartilage and Bone Rubbing Bone
Degenerative arthritis is often connected to inflammation, it is an increase in the amount of water in the individual's cartilage as protein decreases over time. But trauma-induced arthritis is the result of an injury. For example, a bone fracture could result in cartilage loss. Then, bone would be against bone and post-traumatic arthritis could set in.
The following symptoms of post-traumatic arthritis could include any of the following:
Pain and discomfort
Swelling and stiffness
Tender to the touch
Reduction of use due to sensitivity
Reinjuring a joint when you fall, are involved in a car crash, or sustain a sports injury could lead to post-traumatic arthritis. To be properly diagnosed, your doctor will likely order imaging tests along with physically examining the area. Things they will ask you about include the range of motion you are experiencing now and how much that is reduced from your range of motion prior to symptoms.
Having to adjust your life to symptoms can be deflating for individuals. After all, they may have to quit a sport that gave them joy or find their work has to be reduced as it is uncomfortable due to the amount of stress it puts on an injured joint. 
Arthritis from an Injury, Not Age 
Connect with a compassionate attorney if you are coping with painful symptoms and are not able to access the financial recovery you need. A healthcare professional can determine where the pain is radiating from and develop a plan forward. Then, our lawyer can fight for the amount you will need to cover past expenses and future bills. 
When an insurance company attempts to avoid compensation for your arthritis citing degenerative arthritis, it is important you have an attorney working for you who understands post-traumatic arthritis and how to protect your rights. Discuss your arthritis diagnosis after a Maryland crash injury with a Baltimore personal injury lawyer today.
Do you need guidance on how to move a claim forward that includes post-traumatic arthritis? Connect with a skilled personal injury lawyer to strengthen your injury claim. The attorneys at Iamele & Iamele, LLP have been fighting for full and fair compensation packages for years and they are committed to helping clients through the entire process. Call 410-779-6160 today to schedule your free consultation.